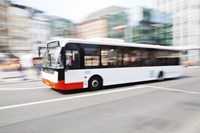 Ballard Power Systems (NASDAQ: BLDP; TSX: BLDP) today announced that it has signed an initial Equipment Sales Agreement with Zhuhai Yinlong Energy Group (http://en.zhyle.com; "Yinlong Energy"), a major Chinese manufacturer of battery electric buses, for 10 FCveloCity®-MD 30-kilowatt fuel cell engines. Ballard plans to deliver the engines in 2017 for integration into Yinlong buses that will be deployed in Beijing.
Randy MacEwen, Ballard's President and CEO said, "Yinlong is a highly-regarded bus manufacturer in China's clean energy mass transportation sector. It is now expanding its product portfolio to include hybrid fuel cell-powered buses to complement the existing offering of battery electric buses. We are delighted that Yinlong has selected Ballard as its supply partner for fuel cell engines to support its initial Beijing demonstration and future growth plans."
Yinlong Energy, located in the City of Zhuhai in Guangdong Province, is a key player in the implementation of China's New Energy Vehicle Program, focusing on battery-powered electric vehicles (EVs) including buses and other passenger vehicles. Yinlong plans to manufacture approximately 35,000 EV buses in 2017.
As operating range and recharging times present challenges for battery-only EV buses on certain routes, Yinlong plans to integrate a fuel cell engine into a new battery hybrid configuration. This offering will increase energy density and power density, thereby improving operating range of the bus. Yinlong is planning to deploy and operate 10 fuel cell buses using Ballard FCveloCity®-MD30 fuel cell engines for demonstration and optimization trials, initially in Beijing, prior to a broader commercial launch throughout China.
Mr. Yincang Wei, Chairman of the Board of Zhuhai Yinlong Energy Group said, "Deployment of clean energy vehicles in China, including mass transportation buses, is a very high priority for national, provincial and city governments. We believe adding fuel cell power for range extension will complement our offering of zero-emission buses to meet a variety of operating conditions and duty cycles in Chinese cities. After careful evaluation, we have selected Ballard as our strategic fuel cell partner. Our '20-20 Plan' is that 20% of our buses sold by 2020 will include fuel cell technology."
As support for the company's aggressive growth plans, including expansion into hybrid battery-fuel cell buses, several market leading companies as well as individuals have recently made significant investments in Yinlong Energy. These investors include: Wanda Group; Zhongji Holdings Group; Jingdong Group; and Ms. Dong Ming.
Beijing, like many cities in China, suffers from a severe air pollution challenge, which is an important reason for the country's move toward zero-emission mass transportation alternatives. In December 2016 a five-day Red Alert was issued in Beijing, during which time schools were closed, thousands of vehicles were ordered off the roads and residents were advised to stay indoors. Over the same period, Red Alerts were also issued in 21 other cities in China.
About Ballard Power Systems
Ballard Power Systems (NASDAQ: BLDP; TSX: BLDP) provides clean energy products that reduce customer costs and risks, and helps customers solve difficult technical and business challenges in their fuel cell programs.