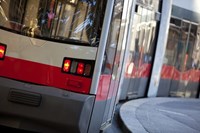 Transport for NSW today challenged tech savvy visionaries to think up new ways to put Bluetooth technology to use to make catching public transport easier.
Submissions are now open for ideas to find new uses for a network of Bluetooth beacons already set up at Chatswood Station and bus interchange as part of a separate trial to help customers with vision impairment catch public transport more easily.
"We're always looking for new ways to deliver better information, products and services to our customers and we want to work closely with the technology industry and entrepreneurs to see what they can come up with," Deputy Secretary Customer Service Tony Braxton-Smith said.
"The Future Transport Beacon Innovation Challenge aims to focus the brightest minds in technology to showcase what is possible using Bluetooth beacons."
Bluetooth beacons put out low energy signals that can be picked up by mobile phone apps and used in a potentially unlimited number of ways to provide information and prompts.
"Bluetooth beacons are small devices with big potential because they can be used in so many different ways," Mr Braxton-Smith said.
"The trial now underway at Chatswood Station and bus interchange uses the beacons to help customers with vision impairments navigate between trains, buses and places of interest in and adjacent to the interchange by sending location signals to a mobile phone which then gives the customer audio cues.
"Other potential uses include providing customers with information about the next train services, local attractions or how to find your way from your train to your bus.
"We are open to any and all ideas that will improve our customers' experience catching public transport. We're keen to see how far this technology can go."
The best submissions will earn access to the trial beacon network from 10 October to 13 November. If their concept is successful in trial, they will be invited to a live Demo Day to showcase their concepts to a panel of Transport for NSW leaders.
The Beacon Challenge is a part of the Future Transport program.
About Transport for NSW
Transport for NSW is responsible for improving the customer experience, planning, program administration, policy, regulation, procuring transport services, infrastructure and freight. Transport operating agencies have been freed up to focus on service delivery – providing safe, reliable, clean and efficient transport services.