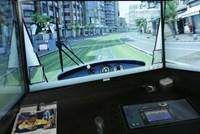 Alstom will participate in the third Move.App Expo Conference and Exhibition, dedicated to transport, mobility and logistics, to be held on 10-14 October at the Leonardo da Vinci Museum of Science and Technology in Milan. On this occasion, Alstom will offer all visitors the opportunity to try its innovative tramway driving simulator, created by Alstom's Knowledge Centre to train future drivers.
The simulator represents a virtual tram cab, featuring all the components of a real vehicle. Sitting comfortably, the trainee sees the track in real situation on the screen in front of him. Touch screens simulate the main driving operations and scale-1 controls modelise the traction and braking controls.
The equipment provides the same sensations as when driving a Citadis tram for real. Modules can be updated easily to incorporate more complex scenarios involving critical cross-roads for instance.
With more than 2,100 Citadis trams sold to 54 cities worldwide, Citadis has become a global benchmark in the tramway market. The trams currently in service have covered a distance of over 800 million kilometres, the equivalent of 20,000 times the circumference of the globe, and transported more than 6 billion passengers.
About Alstom Transport
A promoter of sustainable mobility, Alstom Transport develops and markets the most complete range of systems, equipment and services in the railway sector. Alstom Transport manages entire transport systems, including trains, signalling, maintenance and modernisation, infrastructure and offers integrated solutions. Alstom Transport recorded sales of €5.9 billion in the fiscal year 2013/14. Alstom Transport is present in over 60 countries and employs around 28,300 people.