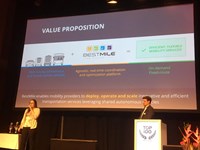 BestMile was just ranked 7th in the TOP 100 Swiss Startup Award.
For the past 3 years, the company has climbed its way up the ranking (13th in 2016 & 29th in 2015) and is proud to have received what is established as label of recognition of Switzerland's most successful startups.
Every year in September since 2011, the TOP 100 Swiss Startup Award offers an instant picture of the most innovative and promising young companies in Switzerland. Based on the expertise of 100 investors and experts, each providing their TOP 10 allowing to establish the final ranking.
About BestMile
BestMile is a Swiss company with offices in Lausanne (Switerland), London (UK) and San Francisco (USA), developing distributed and highly scalable cloud technology, leveraging the full potential of autonomous vehicles to tackle global mobility challenges.