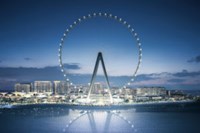 Dutch technology firm 2getthere, a world-leading developer of sustainable mobility solutions, has been awarded the contract to deliver a new automated vehicle system in Dubai that will link new waterfront lifestyle destination Bluewaters with the city's network of metro stations. The innovative new transport system will have a capacity of 5,000 people per hour per direction, with the automated vehicle connection between Bluewaters and the metro set to become the largest of its kind in the world and is considered an example of the future of autonomous transport solutions.
Home to Ain Dubai, the world's tallest and largest observation wheel in the world, Bluewaters is a destination under construction 500 metres (1,600 ft) off the Jumeirah Beach Residence (JBR) coastline, opposite The Beach and near Dubai Marina, in Dubai, United Arab Emirates. The island is a colourful beacon adorning the city's spectacular coastline and skyline, with a collection of townhouses, penthouses and apartments; retail and dining experiences and two hotels, linked to the shore by a multi-modal transport system ensuring easy access to the island.
The centerpiece at Bluewaters will be Ain Dubai, the tallest and largest observation wheel that will be taller than the 167.6 m (550 ft) High Roller that opened in Las Vegas in March 2014. It will also be 19.5 m (64 ft) taller than the 190.5 m (625 ft) New York Wheel planned for Staten Island. When completed, Ain Dubai will be able to carry up to 1,400 passengers in its 48 capsules, and provide views of Dubai Marina and landmarks such as Burj Al Arab, Palm Jumeirah, and Burj Khalifa. Its base will also serve as an exciting entertainment zone
The awarded automatic transport system fits Dubai's objective to have 25% of all trips completed by automated systems by 2035. The automated transport system at Bluewaters will feature 25 driverless Group Rapid Transit (GRT) vehicles capable of carrying 24 passengers each, connecting stations on the island and Nakheel Harbour and Tower Metro Station approximately 2.5 kilometers apart. The capacity will initially be 3,350 people per hour per direction, with the possibility to increase to 5,000 people per hour per direction. The trip time will be approximately 4.5 minutes.
The application is also the first to feature a 2getthere's 3rd generation GRT vehicle. This automated vehicle can serve in Automated People Mover applications as well as an autonomous transit system on public roads, integrating the necessary sensory technology.
Excellent track record
2getthere CEO Carel van Helsdingen: "We believed from the start that our system and technology provided the best fit for the application. It is rewarding to be under contract. The award of the project clearly shows the increased interest in 2getthere's systems throughout the Middle East. This is based to a large extent on our excellent track record in Masdar City and Capelle aan den IJssel in the Netherlands, where we operate comparable systems with a high availability and reliability in harsh climate conditions".
2getthere will realize the project through its Middle East Joint Venture with United Technical Services. According to 2getthere Middle East and United Technical Services COO Ziad Al Askari, the solution provided for the connection to Bluewaters is a perfect fit with the Autonomous Transport Strategy as a pillar to achieve a sustainable economy for the UAE. Al Askari: "His Highness Sheikh Mohammad Bin Rashid Al Maktoum, Vice President and Prime Minister of the UAE and Ruler of Dubai, recently launched an strategy for smart self-driving transport as part of Dubai's strategy to become the smartest city in the world. By 2030, 25 per cent of all transportation trips in Dubai will be smart and driverless. As such we are proud to contribute to this ambitious goal."
Logistical paradigm shift
Van Helsdingen is convinced the automated vehicles will have a great appeal and will encourage more people to visit Bluewaters by public transit. He also sees new opportunities: "The Bluewaters application demonstrates the capability of 2getthere's systems to provide significant capacities, making them a financially attractive alternative for the expensive, traditional rail-guided APM systems at airports and campuses. Basically we are applying Level 4 autonomous vehicles on a dedicated track to provide a high capacity and throughput. We are working on introducing these vehicles in mixed traffic, similar to the extension of the Rivium application in the city of Capelle aan den IJssel (the Netherlands) just announced two weeks ago."
In that respect, 2getthere expects a logistical paradigm shift in the coming years. "On one hand, it is led by metropolitan policy makers in the Middle East and Asia in search of smart city solutions. On the other hand it will increasingly driven by the technology and automotive sector in de US (e.g. in Sillicon Valley and Detroit) responding to the call for cost-effective and environmental friendly last mile solutions. The latter ones connect medium-sized airports to city centers and convert corporate campuses, that are hosting 10,000 people or more, into smart cities."
About 2getthere
2getthere realizes Automated Transit Systems for Smart Cities. The technology is based on 25+ years of experience with automated vehicles in various demanding environments. Depending on the requirements and configuration of the application, 2getthere's driverless vehicles can used to realize Automated People Mover Systems, Automated Transit Networks and Shared Autonomous Vehicles.