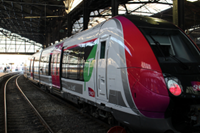 Bombardier commuter trains to increase passenger capacity in the Île-de-France region
The Francilien fleet is currently the best performing one in Île-de-France
Rail technology leader Bombardier Transportation announced today that France's state-owned railway company, Société nationale des chemins de fer français, (SNCF) has exercised an option for 19 additional Francilien Electric Multiple Unit (EMU) commuter trains. The order, entirely financed by Île-de-France's transport authority Syndicat des transports d'Île-de-France (STIF), is valued at approximately 127 million euro ($141 million US).
The original firm order for 172 trains was part of a contract signed in 2006 for up to 372 trains. The first call off option order for 22 trains came in 2014 and this second call off order for 19 units brings the total number of Francilien trains ordered by SNCF to 213, leaving the potential for an additional 159 trains. The additional trains will contribute to STIF's overall fleet modernization and be rolled out on the SNCF Transilien line L on the Versailles Rive Droite branch.
Jean Bergé, President, Bombardier Transportation France, said, "Due to the high passenger demand placed on the SNCF Transilien network, our clients require not only improved reliability and performance, but also a comfortable train that is able to increase capacity. These trains meet and exceed those needs, making the Francilien the best performing train in the Île-de-France fleet."
According to SNCF, nine out of 10 Line H passengers are satisfied with the service, as a result of the improvement of transportation conditions, punctuality, on-board information and comfort. Line H, which operates with a full Francilien fleet, scores the Transilien SNCF network's highest punctuality rate of 95%. See STIF January 2015 punctuality report.
Scheduled for delivery between the end of 2016 and mid-2017, the trains have room for up to 1,000 people, feature large seats, open gangways and wide doors to facilitate passenger flow. They will also include proven technology like BOMBARDIER FLEXX Compact bogies and BOMBARDIER MITRAC Train Control and Management System (TCMS) to provide a smooth and comfortable ride. At present, 155 Bombardier Francilien trains operate out of the Gare du Nord, Gare de L'Est, and Gare Saint-Lazare stations in Paris, France.
About Bombardier Transportation
Bombardier Transportation, a global leader in rail technology, offers the broadest portfolio in the rail industry and delivers innovative products and services that set new standards in sustainable mobility. BOMBARDIER ECO4 technologies – built on the four cornerstones of energy, efficiency, economy, and ecology – conserve energy, protect the environment, and help to improve total train performance for operators and passengers. Bombardier Transportation is headquartered in Berlin, Germany, and has a very diverse customer base with products or services in more than 60 countries. It has an installed base of over 100,000 vehicles worldwide.
Bombardier is the world's leading manufacturer of both planes and trains. Looking far ahead while delivering today, Bombardier is evolving mobility worldwide by answering the call for more efficient, sustainable and enjoyable transportation everywhere. Our vehicles, services and, most of all, our employees are what make us a global leader in transportation.
Bombardier is headquartered in Montréal, Canada. Our shares are traded on the Toronto Stock Exchange (BBD) and we are listed on the Dow Jones Sustainability World and North America Indices. In the fiscal year ended December 31, 2014, we posted revenues of $20.1 billion.