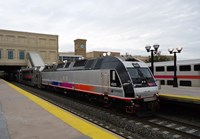 Rail technology leader Bombardier Transportation announced today that New Jersey Transit Corporation (NJ TRANSIT) has exercised an option for 17 additional BOMBARDIER ALP-45 dual-power locomotives. This second call off is valued at approximately $160 million US (133 million euro) and is based on a contract for 26 locomotives signed in 2008. NJ TRANSIT exercised a first option for nine units in 2011 and the contract includes options for up to 37 more units.
"This option order is confirmation of the confidence NJ TRANSIT has in our highly innovative, energy efficient, reliable, and safe equipment," said Benoit Brossoit, President, Americas Region, Bombardier Transportation. "The new locomotives will comply with the EPA's Tier 4 Exhaust Limits, making them environmentally friendly which is especially important in a metropolitan area like New York."
The dual-power locomotives are capable of operating under both diesel power and alternating current electric power from overhead sources. Their flexible power system enables the locomotives to operate across the entire NJ TRANSIT rail system, which includes both electrified and non-electrified lines, thus allowing passengers to ride a single train between New Jersey and New York Penn Station without having to change trains. Their introduction in 2011-2012 at NJ TRANSIT and the then Agence Métropolitaine de Transport in Montreal (now named Réseau de transport métropolitain) marked a first for this technology in North America.
The locomotives will be manufactured at Bombardier sites in Germany and Poland. Delivery is scheduled to start in November 2019.
NJ TRANSIT is the largest statewide public transportation system in the United States and an established customer of Bombardier. Over the years, Bombardier has provided 100 electric and dual-power locomotives, hundreds of push-pull commuter coaches, and 429 Multilevel vehicles to NJ TRANSIT. In addition, Bombardier was a member of the consortium that designed and built NJ TRANSIT's turnkey RiverLINE light rail system between Camden and Trenton, New Jersey and now operates and maintains the system under a contract with NJ TRANSIT.
About Bombardier Transportation
Bombardier Transportation is a global leader in rail technology and offers the broadest portfolio in the industry. It covers the full spectrum of rail solutions, ranging from trains to sub-systems and signalling. The company also provides complete transport systems, e-mobility technology and maintenance services. As an innovation driver, Bombardier Transportation continuously breaks new ground in sustainable mobility. It provides integrated solutions that create substantial benefits for operators, passengers and the environment. Headquartered in Berlin, Germany, Bombardier Transportation employs around 37,150 people and its products and services operate in over 60 countries.

About Bombardier
Bombardier is the world's leading manufacturer of both planes and trains. Looking far ahead while delivering today, Bombardier is evolving mobility worldwide by answering the call for more efficient, sustainable and enjoyable transportation everywhere. Our vehicles, services and, most of all, our employees are what make us a global leader in transportation.
Bombardier is headquartered in Montréal, Canada and our shares are traded on the Toronto Stock Exchange (BBD). In the fiscal year ended December 31, 2016, we posted revenues of $16.3 billion. News and information are available at bombardier.com or follow us on Twitter @Bombardier.