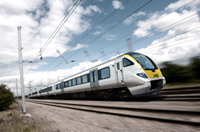 AVENTRA vehicles will enable Abellio East Anglia to increase frequency and reduce passenger's journey times
Bombardier maintenance services teams will help ensure more reliable service
Rail technology leader Bombardier Transportation has today signed a contract to supply 665 new BOMBARDIER AVENTRA vehicles to Angel Trains, for operation by Abellio on its East Anglia rail franchise in the United Kingdom. The contract signing follows on from Bombardier being named as preferred bidder for this rolling stock order, as announced on 10th August 2016. Bombardier has also signed a separate contract to provide ongoing maintenance services support to Abellio Greater Anglia for the new trains for the duration of the franchise.
The rolling stock contract is valued at approximately £869 million GBP ($1.1 billion US, 1 billion euro) and the maintenance contract, which will run for 7 years (with an option to extend in line with any franchise extensions), is valued at approximately £83 million GBP ($108 million US, 97 million euro).
Per Allmer, President, Europe, Middle East & Africa, Bombardier Transportation, commented, "Our modern AVENTRA platform will greatly improve the journey experience for Abellio Greater Anglia's customers by delivering an enhanced interior environment and passenger comfort together with greater connectivity, shorter journey times and more reliable trains. These important contracts demonstrate Bombardier's ability to deliver high quality, integrated transportation products and services, providing value-adding long-term solutions for our customers. As a modular train, our AVENTRA product family offers maximum flexibility and hence has the capability to serve many different market requirements from metro to intercity, both in the UK and worldwide".
Dominic Booth, MD of Abellio UK, said, "We are pleased to have finalised the agreement with Bombardier as a key part of the largest-ever privately-procured train order in the UK. It will give the people of East Anglia high-quality trains as part of an ambitious transformation of the region's railway. We look forward to working with Bombardier and Angel Trains to deliver the 665 air conditioned Bombardier Aventra train carriages that will greatly improve the journey experience of millions of passengers".
With reduced weight, increased capacity, improved energy efficiency and reliability, Bombardier's new AVENTRA EMU delivers a significant increase in performance and passenger experience. The AVENTRA product family can meet various market needs and major orders have already been placed for Transport for London's Elizabeth line (Crossrail) and London Overground's LOTRAIN projects, where this rapidly growing metropolis is facing an increased demand for improved mobility and connectivity to its surrounding cities.
Bombardier has been a key contributor in shaping the development of transportation in the UK and provides mobility solutions from metros to intercity trains as well as the full range of service and maintenance offerings. Bombardier remains committed to providing proven solutions along the rail industry value chain and this announcement reinforces Bombardier's commitment to providing long term customer value to operators and passengers worldwide.
Abellio was announced as the new operator by the Department for Transport on 10 August and will operate the franchise starting October 2016. The new trains are expected to be delivered between January 2019 and September 2020.
Commonwealth Bank of Australia (CBA) will partner with Angel Trains to finance the £900 million procurement. The transaction builds on CBA's ongoing relationship with Angel Trains and further establishes the bank's credentials in the rail industry and support for U.K. manufacturing.
About Bombardier Transportation
Bombardier Transportation is a global leader in rail technology and offers the broadest portfolio in the industry. It covers the full spectrum of rail solutions, ranging from trains to sub-systems and signalling. The company also provides complete transport systems, e-mobility technology and maintenance services. As an innovation driver, Bombardier Transportation continuously breaks new ground in sustainable mobility. It provides integrated solutions that create substantial benefits for operators, passengers and the environment. Headquartered in Berlin, Germany, Bombardier Transportation employs around 39,400 people and its products and services operate in over 60 countries.