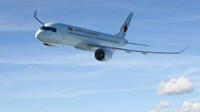 Bombardier Commercial Aircraft and Air Canada announced today that the parties have signed a Letter of Intent (LOI) for the sale and purchase of 45 CS300 aircraft with options for an additional 30 CS300 aircraft, which also includes conversion rights to CS100 aircraft.
Air Canada will become the first North American mainline, international network carrier for the C Series family of aircraft.
Based on the list price of the CS300 aircraft, a firm order for 45 would be valued at approximately $3.8 billion US.
At a press conference that was held today in Saint-Laurent, Québec, Calin Rovinescu, President and Chief Executive Officer, Air Canada, along with members of his leadership team comprised of Benjamin Smith, President, Passenger Airlines and Michael Rousseau, Executive Vice-President and Chief Financial Officer were hosted by Alain Bellemare, President and Chief Executive Officer, Bombardier Inc. Alongside Mr. Bellemare to celebrate the signature, which opens a new chapter in the partnership between the two companies, were his colleagues from Bombardier Commercial Aircraft, Fred Cromer, President and Rob Dewar, Vice President, C Series Aircraft Program and members of their leadership teams
"We've been carefully assessing the capabilities of Bombardier's C Series aircraft and its progress for some time and today we are very pleased to announce an agreement to acquire the CS300 for our mainline fleet," said Mr. Rovinescu. "The C Series will be a key element of our on-going fleet renewal, which will result in Air Canada operating one of the world's youngest and most fuel efficient airline fleets. With its optimal mainline performance range, superior economics, and greater seating capacity, the Canadian-built CS300 aircraft will allow us to compete more effectively, providing increased point-to-point service to domestic and transborder markets further afield, as well as feeding our network."
"We're thrilled to welcome Air Canada as our first mainline, international carrier located in North America. A landmark order from a marquee and iconic customer like Air Canada is a very significant strategic marker for the C Series aircraft program and we're looking forward to further strengthening a relationship that spans 30 years," said Mr. Cromer. "The C Series aircraft has proven and exceeded its performance targets and can readily be used as a coast-to-coast mainline connector or to open direct flights to under-served destinations. Performance and exceptionally low operating costs are ultimately what make this plane a success and Air Canada is recognizing that the C Series aircraft was designed in line with evolving market requirements."
"Our recent focus has been to add a large North American international network carrier to complement our orders in both Europe and Asia, and with Air Canada we are achieving our goal of creating a strong global footprint for the C Series aircraft," said Mr.Bellemare. "We are bolstered and energized by Air Canada's confidence in the C Series aircraft program and very assured that the carrier's commitment – which is one of the largest to date for this aircraft – will be the catalyst for future orders in North America and around the world. We have the best aircraft in the 100- to 150-seat class segment and the momentum continues to build as we introduce the C Series to potential customers."
About C Series Aircraft
The C Series family of aircraft, representing the fusion of performance and technology, is a 100 per cent all-new design that offers operators up to US $13 million extra value per aircraft.
By focusing on the 100- to 150-seat market segment, Bombardier has designed the C Series aircraft to deliver unparalleled economic advantage to operators and to open up new opportunities for single-aisle aircraft operations.
By employing advanced materials, state-of-the-art technologies and advanced aerodynamics, combined with the groundbreaking Pratt & Whitney PurePower® PW1500G engine, the C Series aircraft is delivering a greater-than 10 per cent unit cost advantage compared to similarly-sized, re-engined aircraft.
In addition to delivering best-in-class economics with the C Series aircraft, Bombardier has placed considerable emphasis on cabin design to ensure a superior passenger experience. The aircraft offers 19-inch-wide seats that set a new industry standard, large overhead bins that accommodate a carry-on bag for each passenger, and the largest windows in the single-aisle market. Together these attributes create a widebody feel that offers passengers an unparalleled level of comfort.
All noise performance testing on the CS100 aircraft has been completed and data confirms it is the quietest in-production commercial jet in its class. The aircraft's noise performance and its outstanding short-field capability make it ideal for varied types of operations.
The C Series aircraft's maximum range has also been confirmed to be up to 3,300 NM (6,112 km), some 350 NM (648 km) more than originally targeted.
Bombardier has booked orders and commitments for 678 C Series aircraft, which include firm orders for 243.
About Air Canada
Air Canada is Canada's largest domestic and international airline serving more than 200 airports on six continents. Canada's flag carrier is among the 20 largest airlines in the world and in 2015 served more than 41 million customers. Air Canada provides scheduled passenger service directly to 63 airports in Canada, 56 in the United States and 86 in Europe, the Middle East, Africa, Asia, Australia, the Caribbean, Mexico, Central America and South America. Air Canada is a founding member of Star Alliance, the world's most comprehensive air transportation network serving 1,330 airports in 192 countries. Air Canada is the only international network carrier in North America to receive a Four-Star ranking according to independent U.K. research firm Skytrax. For more information, please visit: www.aircanada.com, follow @AirCanada on Twitter and join Air Canada on Facebook.
About Bombardier
Bombardier is the world's largest manufacturer of both planes and trains. Looking far ahead while delivering today, Bombardier is evolving mobility worldwide by answering the call for more efficient, sustainable and enjoyable transportation everywhere. Our vehicles, services and, most of all, our employees are what make us a global leader in transportation.
Bombardier is headquartered in Montréal, Canada. Our shares are traded on the Toronto Stock Exchange (BBD) and we are listed on the Dow Jones Sustainability North America Index. In the fiscal year ended December 31, 2015, we posted revenues of $18.2 billion.