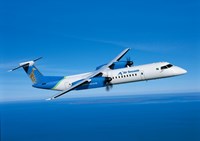 Tanzania Government Flight Agency takes delivery of two new Q400 aircraft for operation by the national airline of the United Republic of Tanzania
The Q400 turboprop continues to maintain strong market share in its class in Africa
Bombardier Commercial Aircraft announced today the delivery of the Tanzanian Government Flight Agency's two Q400 turboprops. The aircraft, which were newly delivered with a 76-seat, dual-lavatory configuration, will be operated by Air Tanzania, the national airline of the United Republic of Tanzania. The delivery of the two aircraft increases the fleet of Q Series turboprops in Africa to approximately 125 aircraft including 40 Q400 aircraft.
"As we look to expand operations and increase our route network across Tanzania and the African continent, the technologically advanced Q400 aircraft is a key component in our growth strategy," said Dr. Leonard Chamuriho, Permanent Secretary, Ministry of Transport, Works and Communication, Tanzania. "Its ability to operate at challenging airfields, combined with its fuel efficiency, excellent reliability and comfortable passenger amenities, make it a valuable addition to our fleet."
"The Q400 aircraft is showcased very well in Africa where it has proven itself to be extremely efficient and continues to maintain strong market share in its class," said Jean-Paul Boutibou, Vice President, Sales - Middle East and Africa, Bombardier Commercial Aircraft. "We are delighted to welcome Air Tanzania to the Q400 aircraft family and proud to support the airline as it joins our vast network of Q Series operators in Africa."
Bombardier's commercial aircraft presence in Africa includes a Regional Support Office (RSO) and spare parts depot, co-located in Johannesburg, South Africa as well as Authorized Service Facilities in South Africa and Ethiopia. Operating from the company's regional office located in the United Arab Emirates, Bombardier Commercial Aircraft's sales and marketing team is well positioned to provide industry-leading solutions to its current and prospective customers.
About the Q400 Aircraft
Designed as a modern, 21st-century turboprop, the Q400 aircraft is the most recent development in the Q Series family of aircraft. It provides unmatched performance, operational flexibility and passenger comfort. In addition to the standard single-class configuration, Q400 aircraft are available with an optional dual-class interior for enhanced passenger comfort; in an optional extra-capacity configuration offering up to 90 seats for higher-density markets; and in a cargo-passenger combi configuration.
Thanks to its combination of turboprop attributes, jet-like features, industry-leading passenger experience and environmental footprint, the Q400 aircraft is exceptionally versatile and can be adapted to a variety of business models. By offering a 30 per cent reduction in fuel burn over the jets it often replaces, the Q400 aircraft radically reduces carbon emissions and increases cost efficiency. Its high-speed cruise -- 160 km/h faster than conventional turboprops -- places the aircraft's flight time within minutes of jet schedules, at the same seat cost as larger single-aisle jets. Its large propellers operate at a lower RPM, generating more power with less noise and making it a friendly option for city centres.
The Q400 aircraft family includes over 60 owners and operators in almost 40 countries. The worldwide fleet has logged more than 7 million flight hours and has transported more than 429 million passengers. Long recognized as a high-value asset by operators, the Q400 aircraft is now also attracting growing interest from the leasing community.
Bombardier has recorded firm orders for a total of 565 Q400 aircraft.
About Bombardier
Bombardier is the world's leading manufacturer of both planes and trains. Looking far ahead while delivering today, Bombardier is evolving mobility worldwide by answering the call for more efficient, sustainable and enjoyable transportation everywhere. Our vehicles, services and, most of all, our employees are what make us a global leader in transportation.
Bombardier is headquartered in Montréal, Canada. Our shares are traded on the Toronto Stock Exchange (BBD) and we are listed on the Dow Jones Sustainability North America Index. In the fiscal year ended December 31, 2015, we posted revenues of $18.2 billion.