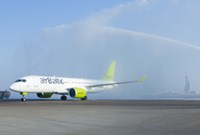 Bombardier Commercial Aircraft will celebrate the CS300 exceptional first year in service by showcasing airBaltic's newest aircraft at the 2017 Dubai Airshow from November 12 to 16.
"We are very proud to bring a C Series in airBaltic's livery at this year's Dubai Airshow, and to celebrate alongside airBaltic the recent launch of the new route between Riga and Abu Dhabi with a CS300 aircraft," said Fred Cromer, President, Bombardier Commercial Aircraft. "We are thrilled to see our CS300 aircraft exceeding performance targets and opening up new opportunities for our operators."
Bombardier also lands with a forecast of growth for airlines in the Middle East region over the next 20 years. During the Dubai Airshow, Bombardier will update customers and media alike on its forecast of 450 aircraft deliveries in the 60- to 150-seat category to Middle East operators.
"Middle East airline capacity continues to grow despite decreasing yields due to emergence of low-cost carriers in the region." said Jean-Paul Boutibou, Vice President, Sales, Middle-East and Africa. "Right-sizing of the fleet will lead to market penetration and profitability in an increasingly competitive Middle East airline market, which will create an equivalent demand for efficient aircraft such as the C Series aircraft."
Bombardier Commercial Aircraft's footprint has grown steadily in the Middle-East with about 15 operators and over 70 aircraft. The high-performing Q400 turboprop has notably enabled operators in the region to successfully improve intra-regional connectivity, and the new C Series family of aircraft is a great complement to the region's widebody fleets, and provides unique growth opportunities.
Bombardier will also emphasize its presence at the airshow with a display of Q400 aircraft in the colours of Falcon Aviation, as well as a super-midsize Challenger 650 jet and an ultra-long range Global 6000 business aircraft.
About Bombardier
Bombardier is the world's leading manufacturer of both planes and trains. Looking far ahead while delivering today, Bombardier is evolving mobility worldwide by answering the call for more efficient, sustainable and enjoyable transportation everywhere. Our vehicles, services and, most of all, our employees are what make us a global leader in transportation.
Bombardier is headquartered in Montréal, Canada. Our shares are traded on the Toronto Stock Exchange (BBD) and we are listed on the Dow Jones Sustainability North America Index. In the fiscal year ended December 31, 2016, we posted revenues of $16.3 billion.