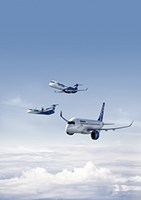 Bombardier Commercial Aircraft today released its 20-year Market Forecast for the 60- to 150-seat segment. According to this new 2017-2036 Market Forecast, the 60- to 150-seat seat segment will be a catalyst to further growth, market penetration and airline profitability.
"The outlook for our markets is strong," said Fred Cromer, President, Bombardier Commercial Aircraft. "We are the only manufacturer with a solution for any type of business model in the 60- to 150-seat segment, and we are well positioned to capture the value from the exciting opportunities outlined in this Market Forecast.
"In addition to showing general market dynamics, our forecast focuses on how airlines are changing the way that assets are evaluated," added Mr. Cromer. "Airlines are shifting their primary metric for network and fleet optimization strategies from 'cost' to 'profit'. With this thinking in the forefront, more airlines are investing in right-sized aircraft that maximize their profits."
The complete market is seen as 12,550 aircraft worth U.S. $820 billion, based on 2017 list prices. The 100- to 150-seat segment will represent 70 per cent of the revenues, 6,800 aircraft valued at $580 billion, followed by the 60- to 100-seat segment with 5,750 deliveries worth $240 billion.
After a trend to take larger aircraft in the recent years, airlines will look at taking smaller aircraft in the future. Some of the conclusions that this new Market Forecast is drawing include the fact that revenue growth is just one part of the profitability equation, and the traditional pursuit of reducing cost-per-seat with large aircraft is not necessarily yielding more profit for airlines. A focus on cost-per-seat instead of yield-per-passenger have resulted not only in lower profits for airlines but also in poor passenger experience.
In some regions, even heavy discounting can't fill oversized planes, while in other regions, overbooked flights are generating outrage amongst passengers. Profit contribution will be transitioning from a network-wide basis to per-passenger basis. With the objective of increasing the profitability per passenger, airlines start investing in right-sized aircraft based on market demands.
The forecast says small regional aircraft (20-60 seats) segment erosion will have a rippling upgrading effect; large regional aircraft (60-100 seats) will continue to dominate short-haul (up to 500 nm/926 km) routes; and small single-aisle aircraft (100-150 seats) will increase point-to-point flying on short- to medium-haul sectors and will allow airlines to fly new and thin routes at a profit. The forecast predicts that 86 per cent of the current fleet in this segment will retire by 2036.
North America and Europe will continue as the largest markets for new aircraft. Together they will take delivery of 5,700 aircraft or 46 percent of deliveries.
The forecast divides the world into nine geographical regions – North America, Europe, Greater China, East Asia and Oceania, Latin America (including Mexico), Russia and CIS, Africa, South Asia and the Middle East. There will be a strong demand for large regional aircraft from Asia/Pacific owing to growth, and renewal demand from Europe and North America. Key markets for the small single-aisle aircraft segment are North America, Europe and Greater China.
About Bombardier
Bombardier is the world's leading manufacturer of both planes and trains. Looking far ahead while delivering today, Bombardier is evolving mobility worldwide by answering the call for more efficient, sustainable and enjoyable transportation everywhere. Our vehicles, services and, most of all, our employees are what make us a global leader in transportation.
Bombardier is headquartered in Montréal, Canada. Our shares are traded on the Toronto Stock Exchange (BBD) and we are listed on the Dow Jones Sustainability North America Index. In the fiscal year ended December 31, 2015, we posted revenues of $18.2 billion.