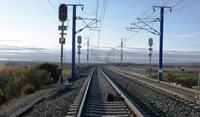 A consortium between Bombardier, Alstom and Indra has won the contract to supply signalling systems and maintenance services for the new high-speed section of the Madrid-Lisbon railway corridor in Spain's Extremadura region. The project, awarded by Spain's Administrator of Railway Infrastructure (ADIF) has a total value of approximately 164 million euro ($185 million US). Bombardier's share is valued at approximately 77 million euro ($86 million US); Alstom's share is valued at approximately 62 million euro ($70 million US), and Indra's share is approximately 25 million euro ($28 million US)1.
The Bombardier-led consortium will deliver the design, procurement, installation, testing and commissioning of the signalling and communication systems. This includes installing a European Rail Traffic Management System (ERTMS) Level 2 on the 164 km Plasencia-Cáceres and Cáceres-Badajoz sections of the line. The project also includes a 20 year maintenance regime to commence at the end of phase one of the signalling system delivery. Bombardier will implement its proven, radio-based BOMBARDIER INTERFLO 450 ERTMS Level 2 solution for the entire line. Alstom is responsible for the electronic interlocking system and will supply the reliable and proven Smartlock 300 solution, and Indra will implement the Spanish automatic train protection (ASFA) system.
About Bombardier Transportation
Bombardier Transportation, a global leader in rail technology, offers the broadest portfolio in the rail industry and delivers innovative products and services that set new standards in sustainable mobility. BOMBARDIER ECO4 technologies – built on the four cornerstones of energy, efficiency, economy, and ecology – conserve energy, protect the environment, and help to improve total train performance for operators and passengers. Bombardier Transportation is headquartered in Berlin, Germany, and has a very diverse customer base with products or services in more than 60 countries. It has an installed base of over 100,000 vehicles worldwide.
About Bombardier
Bombardier is the world's leading manufacturer of both planes and trains. Looking far ahead while delivering today, Bombardier is evolving mobility worldwide by answering the call for more efficient, sustainable and enjoyable transportation everywhere. Our vehicles, services and, most of all, our employees are what make us a global leader in transportation.
Bombardier is headquartered in Montréal, Canada. Our shares are traded on the Toronto Stock Exchange (BBD) and we are listed on the Dow Jones Sustainability World and North America Indices. In the fiscal year ended December 31, 2014, we posted revenues of $20.1 billion. News and information are available at bombardier.com or follow us on Twitter @Bombardier.