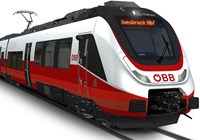 The leading rail technology provider, Bombardier Transportation and the Austrian Federal Railways (ÖBB) signed a call-off order for the delivery of 25 BOMBARDIER TALENT 3 trains on June 29, 2018. This second call-off is based on a framework agreement signed in 2016 for up to 300 trains. The total value of this order is approximately 188 million euro ($218 million US dollars). This call-off includes an option for an additional five trains.
Of the 25 new six-car electric multiple units, 19 vehicles will be used in Tyrol. The remaining six trains will be used in South Tyrol for cross-border traffic to Italy. This will increase the transportation options on the major connections between rural and urban areas in the Austrian region of Tyrol, and in South Tyrol and Italy. The delivery of the trains for Tyrol is scheduled for 2020, with the trains for South Tyrol scheduled for 2021.
"With this procurement, ÖBB is systematically continuing its fleet renewal", says Evelyn Palla, Board Member of ÖBB-Personenverkehr AG. "This ensures both accessibility and a state-of-the-art comfort standard in local and regional transport for Tyrol."
"It is a huge gesture of trust for Bombardier and a great confirmation of the new TALENT 3 regional train that ÖBB decided to purchase a second order before the first trains were even delivered," says Christian Diewald, Head of Bombardier Transportation in Austria. "We are looking forward to continuing our trusting collaboration with ÖBB. Together, we will successfully implement the expansion and modernisation of the transportation options in Austria."
With its particularly wide railcar body, the new TALENT 3 allows for up to 50 per-cent higher seating capacity in comparison to the previous generation. Thus, this train allows for a more rapid passenger changeover and maximum travel comfort. The trains are capable of strong spurts and score points with six driven axles for high acceleration capacity. In total, around 1,400 trains from the TALENT family are already in use in Europe and Canada. Of those, 187 vehicles are operated by ÖBB in Austria.
Bombardier's products ensure mobility in Austria. Modern BOMBARDIER FLEXITY trams are in use in large cities like Linz, Innsbruck, Graz and, in the future, Vienna. In addition, city trains for the Vienna subway line 6 and commuter trains for ÖBB, as well as locomotives for several private cargo companies come from Bombardier. The Vienna site is Bombardier's centre of expertise for trams. Around 500 employees are employed there.
About Bombardier Transportation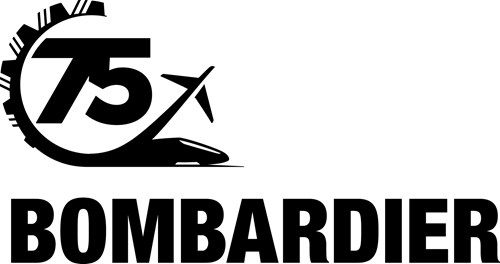 Bombardier Transportation is a global leader in rail technology and offers the broadest portfolio in the industry. It covers the full spectrum of rail solutions, ranging from trains to sub-systems and signalling. The company also provides complete transport systems, e-mobility technology and maintenance services. As an innovation driver, Bombardier Transportation continuously breaks new ground in sustainable mobility. It provides integrated solutions that create substantial benefits for operators, passengers and the environment. Headquartered in Berlin, Germany, Bombardier Transportation employs around 39,850 people and its products and services operate in over 60 countries.