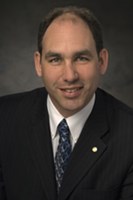 Rail technology leader Bombardier Transportation announced today the appointment of Benoit Brossoit as new President of Bombardier Transportation's Americas Division, effective April 11, 2016. Mr. Brossoit will oversee all engineering, project, production, business development and stakeholder-related activities for Bombardier Transportation in the Americas. He succeeds Raymont Bachant, who is leaving the company to pursue other career opportunities.
"With Benoit Brossoit, a highly dynamic and experienced executive is joining Bombardier Transportation. He successfully combines sound knowledge in industrial engineering with excellent management skills and leadership", said Laurent Troger, President of Bombardier Transportation. "Benoit will be instrumental in improving our performance and competitiveness in this key region."
Benoit Brossoit joins Bombardier Transportation from United Technologies Corporation in the United States, where he held the position of Senior Vice President, Operations. His career spans more than 25 years in various leadership roles and includes companies like General Motors and Pratt & Whitney Canada. Benoit has a very strong track record of leading large organizations through periods of transformation in very complex environments. He has successfully spearheaded comprehensive optimization programs with a relentless focus on operational excellence and exceeding customer expectations.
Mr. Brossoit graduated from GMI Engineering & Management Institute (Kettering University) in Michigan. He holds a degree in Industrial Engineering, and completed the Business Management program at the University of Virginia's Darden School of Business in Charlottesville.
About Bombardier Transportation
Bombardier Transportation is a global leader in rail technology and offers the broadest portfolio in the industry. It covers the full spectrum of rail solutions, ranging from trains to sub-systems and signalling. The company also provides complete transport systems, e-mobility technology and maintenance services. As an innovation driver, Bombardier Transportation continuously breaks new ground in sustainable mobility. It provides integrated solutions that create substantial benefits for operators, passengers and the environment. Headquartered in Berlin, Germany, Bombardier Transportation employs around 39,400 people and its products and services operate in over 60 countries.
About Bombardier
Bombardier is the world's leading manufacturer of both planes and trains. Looking far ahead while delivering today, Bombardier is evolving mobility worldwide by answering the call for more efficient, sustainable and enjoyable transportation everywhere. Our vehicles, services and, most of all, our employees are what make us a global leader in transportation.
Bombardier is headquartered in Montréal, Canada. Our shares are traded on the Toronto Stock Exchange (BBD) and we are listed on the Dow Jones Sustainability North America Index. In the fiscal year ended December 31, 2015, we posted revenues of $18.2 billion.