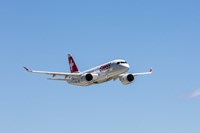 Bombardier announced today its upcoming presence at Asia's biggest airshow – the Singapore Airshow 2016 – with an impressive line-up of commercial and business aircraft for the static display.
The line-up will include the all-new, recently certified CS100 airliner and two business aircraft – the Challenger 650 and the Global 6000 business jets. Additionally, Bangkok, Thailand-based airline Nok Air will display an 86-seat Q400 aircraft. During the show, which will be held at the Changi Exhibition Center, members of Bombardier's Commercial Aircraft and Business Aircraft senior leadership teams will be on site to meet with customers, suppliers and other stakeholders. Singapore Airshow 2016 runs from February 16-21.
"Having our aircraft and teams on display at the renowned Singapore Airshow is a great way to debut the recently certified CS100 aircraft for our customers and stakeholders in the Asia-Pacific region. It's an exciting time as the SWISS-liveried CS100 aircraft embarks on its world tour over the next few weeks," said Fred Cromer, President, Bombardier Commercial Aircraft. "In addition to updating the market on the 100- to 150- seat C Series aircraft program, it's also a great opportunity for our sales and marketing teams to update the region on the latest developments from our CRJ Series and Q Series families of aircraft. This year that includes success stories from Nok Air and SpiceJet as flagship Q400 aircraft operators in the region, as well as China Express with its recent repeat order for 10 additional CRJ900 aircraft."
"Singapore is a key strategic location for Bombardier Business Aircraft, and the Singapore Airshow offers us the opportunity to further engage with our customers and partners in this important region," said David Coleal, President, Bombardier Business Aircraft. "The installed base of business aircraft in the Asia-Pacific region is growing, and as a result, Singapore's aerospace cluster is prospering. With our wholly-owned Singapore Service Centre, which is celebrating its second year of operation, our presence in Singapore supports our long-term commitment to the region at large, and we are poised for success."
Static Display
The four aircraft from Bombardier's portfolio of industry-leading products being featured on static display include the technologically advanced CS100 airliner, Q400 turboprop and the Challenger 650 and Global 6000 business aircraft.
The Bombardier chalet, which is adjacent to the aircraft static display, is located in the Exhibition Hall at #CD61-63-65.
About Business Aircraft
Bombardier Business Aircraft maintains a strong presence in Asia as part of its strategy to bring its aircraft and services closer to its customers and their needs. Its strategically located Singapore Service Centre forms the foundation of a full-service hub in the region that houses Bombardier's current Singapore Regional Support Office (RSO) and is closely networked with Bombardier's RSOs in Shanghai, Hong Kong and Sydney, as well as its parts depots in Beijing, Tokyo, Sydney, Hong Kong and Singapore. Furthering its commitment to operators in Asia, Bombardier Business Aircraft's joint venture maintenance facility in Tianjin, China broke ground April 2015, and is set to open in 2017.
About Commercial Aircraft
The fleet of Bombardier commercial aircraft in the Asia-Pacific region is steadily growing with more than 360 Q Series turboprops, CRJ regional jets and C Series airliners now in service with, or on firm order from, approximately 50 customers and operators in the region. Bombardier's Commercial Aircraft Market Forecast for the period 2015-2034, covering aircraft from 60 to 150 seats, predicts deliveries of 1,100 units to the Asia-Pacific region, 2,450 units to the Greater China region and 700 to the South Asia region; representing a grand total of 4,250 deliveries over the forecast period.
Operating from the company's regional offices located in Singapore, as well as in Shanghai, Bombardier Commercial Aircraft's sales and marketing team is well positioned to provide industry-leading solutions to its current and prospective customers. Bombardier Commercial Aircraft's Customer Services network in the Asia-Pacific region includes Regional Support Offices in Singapore; Shanghai, China; Tokyo, Japan; Sydney, Australia; and India, as well as Parts Services Depots in Singapore; Tokyo, Japan; Hong Kong and Beijing; China; and Sydney, Australia. Three Authorized Service Facilities, which provide valued support to keep our customers flying competitively, are operated by STAECO in Jinan, China; Hawker Pacific in Cairns, Australia; and GMR Aero in Hyderabad, India.
About Bombardier
Bombardier is the world's leading manufacturer of both planes and trains. Looking far ahead while delivering today, Bombardier is evolving mobility worldwide by answering the call for more efficient, sustainable and enjoyable transportation everywhere. Our vehicles, services and, most of all, our employees are what make us a global leader in transportation.
Bombardier is headquartered in Montréal, Canada. Our shares are traded on the Toronto Stock Exchange (BBD) and we are listed on the Dow Jones Sustainability North America Index. In the fiscal year ended December 31, 2014, we posted revenues of $20.1 billion.