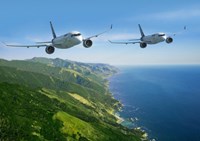 Bombardier announced today that its all-new CS100 aircraft has successfully completed over 90 per cent of the certification program and is now in the final stage of flight testing that will include a few weeks of function and reliability tests. Bombardier also confirmed that production ramp-up is underway, including the first aircraft for launch operator, SWISS.
"It's a thrill to announce that we're in the final stage of certification. Following a comprehensive flight test program, we're now on the cusp of validating that the CS100 aircraft is ready for operation with SWISS," said Fred Cromer, President, Bombardier Commercial Aircraft. "Thanks to the dedication and hard work of many people from around the world, over many years, today we're proud to announce that this last phase of flight testing puts us on track to certify by the end of 2015."
"The tremendous discipline and efforts of our employees, suppliers and customers will be on display over the next few weeks as the CS100 aircraft takes to operating on a commercial airline-type schedule from key airports in North America. This function and reliability testing will include airfield performance; landings and airport turnarounds; and on-ground operations – all to ready the CS100 aircraft for operation with SWISS in the first half of 2016," said Rob Dewar, Vice President, C Series Aircraft Program, Bombardier Commercial Aircraft.
"The function and reliability test flights, which will be conducted using typical airline flight routings and operational procedures, will include about 15 representative airports in Canada and 20 in the United States," added Mr. Dewar.
In the last month, Bombardier announced it had completed all noise performance testing and data confirms it is the quietest in-production commercial jet in its class. The aircraft's noise performance and its outstanding short-field capability make it ideal for varied types of operations. Earlier this year, Bombardier announced that the C Series aircraft's maximum range is confirmed to be up to 3,300 NM (6,112 km), some 350 NM (648 km) more than originally targeted. The aircraft is delivering more than a 20 per cent fuel burn advantage compared to in-production aircraft, and a greater than 10 per cent advantage compared to re-engined aircraft. This means that one C Series aircraft could reduce an operator's carbon emissions by up to 6,000 tons each year. The C Series will also emit 50 per cent fewer NOX emissions than the CAEP 6* NOX emission standards.
Bombardier assesses the environmental impact of its aircraft throughout their life cycles. Based on its design, manufacturing, operations and recyclability, the C Series aircraft will be issued an Environmental Product Declaration (EPD) upon entry-into-service – an industry first.
About C Series Aircraft
The C Series family of aircraft, representing the fusion of performance and technology, is a 100 per cent all-new design that offers operators potential savings of between US$ 7.5 to 12 million per aircraft.
The aircraft are delivering more than a 20 per cent fuel burn advantage compared to in-production aircraft, and a greater than 10 per cent advantage compared to re-engined aircraft.
In addition to delivering best-in-class economics with the C Series aircraft, Bombardier has placed considerable emphasis on cabin design to ensure an excellent passenger experience. The C Series aircraft's larger seats, overhead bins and windows create a widebody feel that offers passengers unparalleled comfort.
The CS100 and CS300 aircraft have over 95 per cent parts commonality, as well as the same type rating. The groundbreaking Pratt & Whitney PurePower® PW1500G engine, combined with advanced aerodynamics, delivers reduced fuel burn, noise and emissions, increasing the aircraft's environmental and social compatibility.
By focusing on the 100- to 150-seat market segment, Bombardier has designed the C Series aircraft to deliver unparalleled economic advantage to operators and to open up new opportunities for single-aisle aircraft operations.
Bombardier has booked orders and commitments for 603 C Series aircraft, which include firm orders for 243.
About Bombardier
Bombardier is the world's leading manufacturer of both planes and trains. Looking far ahead while delivering today, Bombardier is evolving mobility worldwide by answering the call for more efficient, sustainable and enjoyable transportation everywhere. Our vehicles, services and, most of all, our employees are what make us a global leader in transportation.
Bombardier is headquartered in Montréal, Canada. Our shares are traded on the Toronto Stock Exchange (BBD) and we are listed on the Dow Jones Sustainability North America Index. In the fiscal year ended December 31, 2014, we posted revenues of $20.1 billion.