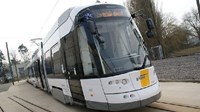 Option order comes just days after Ghent inaugurates new BOMBARDIER FLEXITY 2 tram
With an expanded fleet of 88 FLEXITY 2 trams, De Lijn offers increased capacity for passengers in the cities of Ghent and Antwerp
Rail technology leader Bombardier Transportation has won an order to supply 40 additional BOMBARDIER FLEXITY 2 trams to the Flemish transport operator De Lijn for the Belgian cities of Ghent and Antwerp. This order is an option included in an initial contract signed in September 2012 and is valued at approximately 97 million euro ($107 million US). The order increases De Lijn's fleet of FLEXITY 2 trams from 48 to 88.
De Lijn announced their decision to order the additional trams at a public ceremony celebrating the official inauguration of new FLEXITY 2 trams in the city of Ghent on May 11. Not only will the new trams replace an aging fleet, but at nearly 43 meters long they can carry up to 40% more passengers than their predecessors. Passengers will also benefit from easy access and comfort as the low-floor vehicles are equipped with multi-purpose areas for those traveling with reduced mobility and storage space for bicycles and prams.
Roger Kesteloot, General Director, De Lijn, said, "We are happy to be able to provide these two Flemish cities with a much-needed capacity increase with this order. The initial reaction to "Albatros"- the name that our passengers chose for the FLEXITY 2 trams - in Ghent has been very positive. We are looking forward with anticipation to the deliveries of the 40 additional trams."
De Lijn and Bombardier have a long-standing partnership, not only for the supply of newly built trams, but also for structural revisions, refurbishment and crash repairs on De Lijn's existing fleet. Bombardier is also a partner in the EVTecLab field trial project where De Lijn will operate three electric buses equipped with BOMBARDIER PRIMOVE technology for inductive charging in the city of Bruges.
Ghent will receive 16 bi-directional, seven-module vehicles with a length of approximately 43 meters and able to accommodate up to 378 passengers. Antwerp will receive 24 mono-directional trams. Fourteen of these will be seven-module vehicles with a length of approximately 43 meter and a capacity for 380 passengers. This is in addition to another ten, five-module vehicles with a length of approximately 31 meters and a capacity of up to 266 passengers.
All trams are 2.3 meters wide and equipped with BOMBARDIER FLEXX Urban 3000 meter gauge bogies with conventional axles that deliver a smooth ride as well as reduce wear and tear on both wheels and tracks. The motorized bogies also feature full suspension motors and gearboxes to keep ground vibrations to a minimum. In addition, all vehicles are equipped with the BOMBARDIER MITRAC propulsion system and have heating, ventilation and air conditioning (HVAC) systems for drivers and passengers. The passenger HVAC system features improvements such as variable CO2 controlled fresh air flow to ensure an optimized climate for the passengers.
Worldwide, Bombardier now has more than 4,000 trams and light rail vehicles in successful revenue service, or on order.
About Bombardier Transportation
Bombardier Transportation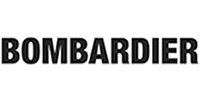 , a global leader in rail technology, offers the broadest portfolio in the rail industry and delivers innovative products and services that set new standards in sustainable mobility. BOMBARDIER ECO4 technologies - built on the four cornerstones of energy, efficiency, economy, and ecology - conserve energy, protect the environment, and help to improve total train performance for operators and passengers. Bombardier Transportation is headquartered in Berlin, Germany, and has a very diverse customer base with products or services in more than 60 countries. It has an installed base of over 100,000 vehicles worldwide.