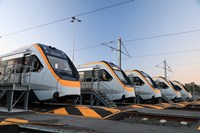 New Generation Rollingstock trains to transform South-East Queensland passenger commuting experience
New fleet to increase capacity by over 26% along the vital South-East rail corridor
Rail technology leader Bombardier Transportation, together with the Qtectic consortium, is successfully delivering the first three New Generation Rollingstock (NGR) trainsets to the South-East Queensland rail network this week in partnership with the Queensland State Government, Department of Transport and Main Roads (TMR) and Queensland Rail (QR).
"Today is a very special day for the people of South-East Queensland, and all involved in the delivery of this vital rail project," said Andrew Dudgeon, Managing Director of Bombardier Transportation Australia.
"These trains are state-of-the-art" said Mr. Dudgeon. "Built for Queensland's commuters, the NGR fleet was locally designed and engineered, and will be maintained by a dedicated team of industry professionals over the next 30 years. The new fleet will provide a safer, more comfortable and better-connected passenger experience."
Qtectic Chair, Bill Haughey, applauded the close partnerships on this project, with all parties working tirelessly to bring it to this important milestone.
"We are excited to present the new fleet to the people of Queensland. Our consortium would like to thank the Queensland State Government, TMR, and QR for their continued support and close collaboration. These new trains will provide passengers with a safe, more comfortable, and digitally-enabled environment," said Mr. Haughey.
With 70% of Queensland's future population growth targeted in the South-East region, the NGR project will see a significant, 26% capacity increase to the South-East Queensland rail network to meet the growing demand for rail services. Features of the NGR fleet include capacity for 964 passengers per six-carriage train, onboard WIFI, CCTV throughout the train, LCD infotainment displays, toilet modules, twelve allocated spaces for mobility aids, and more enhancements to the passenger experience.
Through this project, Bombardier has created over 2,000 local jobs across the industry and supply chain. There are currently 175 employees at the Wulkuraka Maintenance Facility, with a plan to ramp up to over 200 employees once maintenance activities commence.
The $4.4 billion AUD NGR project is being delivered under a Public Private Partnership awarded to Qtectic, comprising Bombardier Transportation, John Laing, Itochu and Aberdeen Standard Investments. The project includes the design and delivery of 75 new passenger trains, construction of a new maintenance centre at Wulkuraka, Ipswich and 32 years of fleet maintenance.
Video
Getting to know the NGR train: https://youtu.be/pvMUZ2UDVM8
Application of the indigenous artwork on the NGR train: https://youtu.be/NDnm6nLBgqc
About Bombardier Transportation
Bombardier Transportation is a global leader in rail technology and offers the broadest portfolio in the industry. It covers the full spectrum of rail solutions, ranging from trains to sub-systems and signaling. The company also provides complete transport systems, e-mobility technology and maintenance services. As an innovation driver, Bombardier Transportation continuously breaks new ground in sustainable mobility. It provides integrated solutions that create substantial benefits for operators, passengers and the environment. Headquartered in Berlin, Germany, Bombardier Transportation employs around 37,150 people and its products and services operate in over 60 countries.
About Bombardier
Bombardier is the world's leading manufacturer of both planes and trains. Looking far ahead while delivering today, Bombardier is evolving mobility worldwide by answering the call for more efficient, sustainable and enjoyable transportation everywhere. Our vehicles, services and, most of all, our employees are what make us a global leader in transportation.
Bombardier is headquartered in Montréal, Canada and our shares are traded on the Toronto Stock Exchange (BBD). In the fiscal year ended December 31, 2016, we posted revenues of $16.3 billion. News and information are available at bombardier.com or follow us on Twitter @Bombardier.