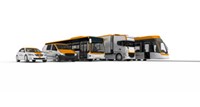 Bombardier presents urban mobility developments including the eco-friendly BOMBARDIER C30 MOVIA Metro for Stockholm and latest BOMBARDIER PRIMOVE e-bus projects
New innovative safety technologies for BOMBARDIER FLEXITY light rail vehicles on show including the Driver Assistance system and BodyGuard™
Bombardier highlights long-term fleet services solutions that minimize operational costs and add value for city and regional transport operators
Rail technology leader Bombardier Transportation is a major player at this year's UITP World Congress and Exhibition held in Milan, Italy from June 8-10, 2015. UITP's slogan 'SMILE in the city' and acronym 'SMILE', Sustainability, Mobility, Innovation, Lifestyle and Economy, provide the keywords for this year's most important event for public transport operators.
Lutz Bertling, President and Chief Operating Officer, Bombardier Transportation, said, "Fast growing cities and booming populations are increasing demand for efficient and sustainable public transport systems. Bombardier is responding with the solutions that address the 21st century's major mobility challenges; how to increase performance while making cities more livable."
At the exhibition, Bombardier will demonstrate how its products and services are driving innovation forward. It will highlight its role as a leading provider of integrated transport solutions and present its portfolio of services that make Bombardier the long-term partner of choice for public transport operators all over the world.
Providing eco-friendly solutions for the mobility challenges of growing cities
As one of Europe's fastest growing and most livable cities, Stockholm is investing heavily in sustainable transport. The Red Line upgrade is a key project and from the outset, the BOMBARDIER MOVIA Metro C30 has been designed to sharply increase transport capacity for the Stockholm public transport authority SL. Designed to meet the highest environmental standards, the new C30 metro will also increase passenger comfort with additional bi-parting doors for faster entry and exit and a mixed four-by-four seating configuration with additional seats along the vehicle's sides to optimize capacity.
In Berlin, the wireless BOMBARDIER PRIMOVE charging system and the compact PRIMOVE battery system will make the city the first capital to convert a complete bus line into an eco-friendly route using electric-buses. Starting in summer 2015, passengers on the city centre bus line 204, operated by Berlin public transport authority BVG, will enjoy a quiet and emission-free ride. At the UITP Exhibition, Bombardier will also provide insight into experience gained in Braunschweig, Germany, where passengers have been riding PRIMOVE buses for over a year. Visitors to the Bombardier stand can follow the e-buses in real-time on a dedicated application.
Driving innovation for a safer urban future
More than 4,000 Bombardier trams and light rail vehicles are already in passenger service or on order in cities all over the world. Bombardier is continuing to invest in innovations to make these safe transport modes even safer. Together with research partner Austrian Institute of Technology, Bombardier has developed the Driver Assistance System to reduce the risk of light rail vehicle collisions. This specially developed optical 3D sensor system helps make vehicles more proactive, intelligent and thereby even safer for pedestrians, motorists and cyclists. Following successful testing in passenger service, the Frankfurt Transport Authority has decided to equip 74 bi-directional vehicles with the innovative Driver Assistance System, which will also be displayed on a FLEXITY Basel cab during the UITP World Congress and Exhibition.
Health and safety continues to be a strong focus for UITP's members and BodyGuard™ is a safety system for light rail vehicles currently in development with Bombardier and Technical University Zurich. In the case of a possible frontal collision between vehicle and pedestrian, an airbag automatically deploys, closing the gap between road and vehicle. This technology, which prevents the pedestrian from being caught under the vehicle, has only been made possible due to the development of highly sensitive sensors.
Long term partner to city transport providers
Bombardier continues to develop long term solutions for services that add real value for transport operators. The Automatic Vehicle Inspection (AVI) system, already in use at BT's Central Rivers (UK) and Gautrain Rail (South Africa) service depots, is an integrated technology that enables preventative maintenance by using a range of cameras and sensors that analyze and monitor a vehicle's condition. Equipped with this data, operators can lower costs by reducing component usage and maintenance interventions while increasing asset utilization.
Bombardier is also bringing its Asset Life Management expertise to customers with new fleets (entire life cycle management) as well as to older fleets already in operation. The portfolio of services includes: vehicle modernization, hardware and software upgrades, enhancements and refurbishments, energy management, damage repair and heavy maintenance options. Customer benefits include increased train reliability and availability, minimized operational costs and ultimately, a more enjoyable passenger experience.
Meet the Bombardier Team at exhibition stand 4H140 located in Hall 4 to find out more about Bombardier's complete portfolio of mobility solutions.
Bombardier products in Italy
Milan, host of the UITP Congress and Exhibition, has an extensive public transport system and is ranked as one of Europe's most livable cities. On April 25, 2015, the city provided the starting point for the inaugural journey of the V300ZEFIRO very high speed train on its maiden journey from Milan to the capital Rome, at an event hosted by Italian transport operator Ferrovie dello Stato Italiane. The new very high speed trains, known as the Frecciarossa 1000, are manufactured in Italy by Bombardier in partnership with AnsaldoBreda. The trains will start commercial service in June 2015.
Bombardier is a long term partner to Italy's rail operators and its Vado Ligure production site recently celebrated is 110 year anniversary. Flagship products in Italy include the popular E-464 locomotives, BOMBARDIER TRAXX locomotives, BOMBARDIER FLEXITY Outlook light rail vehicles in Palermo, BOMBARDIER INTERFLO signalling solutions for mainline operations and a BOMBARDIER INNOVIA APM 100 automated people mover system, operating with BOMBARDIER CITYFLO 650 Communications-Based Train Control (CBTC) technology, at the Rome International Airport.
About Bombardier Transportation
Bombardier Transportation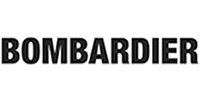 , a global leader in rail technology, offers the broadest portfolio in the rail industry and delivers innovative products and services that set new standards in sustainable mobility. BOMBARDIER ECO4 technologies - built on the four cornerstones of energy, efficiency, economy, and ecology - conserve energy, protect the environment, and help to improve total train performance for operators and passengers. Bombardier Transportation is headquartered in Berlin, Germany, and has a very diverse customer base with products or services in more than 60 countries. It has an installed base of over 100,000 vehicles worldwide.
About Bombardier
Bombardier is the world's leading manufacturer of both planes and trains. Looking far ahead while delivering today, Bombardier is evolving mobility worldwide by answering the call for more efficient, sustainable and enjoyable transportation everywhere. Our vehicles, services and, most of all, our employees are what make us a global leader in transportation.
Bombardier is headquartered in Montréal, Canada. Our shares are traded on the Toronto Stock Exchange (BBD) and we are listed on the Dow Jones Sustainability World and North America Indices. In the fiscal year ended December 31, 2014, we posted revenues of $20.1 billion. News and information are available at bombardier.com or follow us on Twitter @Bombardier.