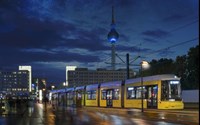 Rail technology leader Bombardier Transportation will supply additional 47 BOMBARDIER FLEXITY trams for the City of Berlin. This is an option order based on the framework agreement for a maximum of 206 vehicles signed in 2006.The order is valued at approximately 176 million euro ($ 190 million US). BVG originally ordered four pre-series vehicles for testing followed by 99 trams in 2009 and a call-off for 39 trams in 2012. The total number of vehicles now stands at 189. In response to the constantly rising number of passengers, 20 trams from a previous order will be modified from five to seven-module vehicles.
"By ordering another 47 FLEXITY and the conversion of short to long trams, BVG proactively responds to the requirement arising from the growing city of Berlin for local public transport," Klaus-Dietrich Matschke, Director for Trams at BVG, pointed out.
Carsten Bopp, Head of Light Rail Vehicles, Bombardier Transportation, said: "Having handed over the 100th tram to BVG in summer 2015, this call-off is yet another important milestone in the long and successful cooperation in the German capital. The increasing number of passengers confirms the attractiveness of public transport in Berlin, the city with the fourth largest tram network worldwide, and we are proud to be an integral part of this success story."
The FLEXITY Berlin concept was jointly developed by BVG and Bombardier Transportation. This has resulted in a 100% barrier-free, leading edge tram providing easy access which is highly popular in Berlin and has already received several design awards. The interior offers ample space as well as multipurpose areas and air-conditioning both in the passenger area and the driver's cab. The vehicles boast low electricity consumption and feed braking energy back into the system.
To date more than 1,500 FLEXITY 100% low-floor trams have been sold. About 5,000 Bombardier trams and LRVs are in revenue service or on order in Europe, Asia, Australia and North America.
About Bombardier Transportation
Bombardier Transportation is a global leader in rail technology and offers the broadest portfolio in the industry. It covers the full spectrum of rail solutions, ranging from trains to sub-systems and signalling. The company also provides complete transport systems, e-mobility technology and maintenance services. As an innovation driver, Bombardier Transportation continuously breaks new ground in sustainable mobility. It provides integrated solutions that create substantial benefits for operators, passengers and the environment. Headquartered in Berlin, Germany, Bombardier Transportation employs around 37,700 people and its products and services operate in over 60 countries.
About Bombardier
Bombardier is the world's leading manufacturer of both planes and trains. Looking far ahead while delivering today, Bombardier is evolving mobility worldwide by answering the call for more efficient, sustainable and enjoyable transportation everywhere. Our vehicles, services and, most of all, our employees are what make us a global leader in transportation.
Bombardier is headquartered in Montréal, Canada. Our shares are traded on the Toronto Stock Exchange (BBD) and we are listed on the Dow Jones Sustainability North America Index. In the fiscal year ended December 31, 2014, we posted revenues of $20.1 billion.