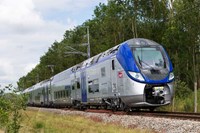 Rail technology leader Bombardier Transportation announced today that the French National Railway Company (SNCF) has exercised an option for eight additional Regio 2N double deck electric multiple units. The order will be financed by the Midi Pyrénées region and is valued at approximately 56.5 million euro ($63.3 million US). This additional order is part of an option included in a contract signed in 2010 with SNCF to provide up to 860 trains for various French regions.
The Midi Pyrénées Region ordered ten Regio 2N in December 2013, and this new order will increase the region's fleet to 18. Delivery will take place between 2017 and 2019. Altogether, ten French regions have ordered a total of 209 Regio 2N.
To date, Bombardier's Crespin site in Northern France has delivered a total of 45 well-performing trains to six French regions. Since commissioning in October 2014, the Regio 2N fleet, based on the BOMBARDIER OMNEO double-deck EMU platform, has traveled over a million kilometers in service.
Passengers riding in the Regio 2N will benefit from the train "tube"-style architecture. It features a large number of comfortable seats, indirect lighting, electrical sockets, air conditioning and a passenger information system. The Regio 2N is also known for its low operational costs and energy savings of about 20% per passenger. This is in part thanks to BOMBARDIER ECO4 technologies such as the BOMBARDIER MITRAC Permanent Magnet Motor which captures electrical energy used during braking.
About Bombardier Transportation
Bombardier Transportation, a global leader in rail technology, offers the broadest portfolio in the rail industry and delivers innovative products and services that set new standards in sustainable mobility. BOMBARDIER ECO4 technologies – built on the four cornerstones of energy, efficiency, economy, and ecology – conserve energy, protect the environment, and help to improve total train performance for operators and passengers. Bombardier Transportation is headquartered in Berlin, Germany, and has a very diverse customer base with products or services in more than 60 countries. It has an installed base of over 100,000 vehicles worldwide
About Bombardier
Bombardier is the world's leading manufacturer of both planes and trains. Looking far ahead while delivering today, Bombardier is evolving mobility worldwide by answering the call for more efficient, sustainable and enjoyable transportation everywhere. Our vehicles, services and, most of all, our employees are what make us a global leader in transportation.
Bombardier is headquartered in Montréal, Canada. Our shares are traded on the Toronto Stock Exchange (BBD) and we are listed on the Dow Jones Sustainability World and North America Indices. In the fiscal year ended December 31, 2014, we posted revenues of $20.1 billion.