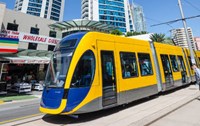 Rail technology leader Bombardier Transportation will supply four additional BOMBARDIER FLEXITY 2 trams to Australia's Gold Coast Light Rail Transit system (GCLRT). This order is valued at approximately $25 million AUD (17 million euro, $18 million US) and is an exercise of an option included in a contract signed in 2011
The new vehicles will be used on the northern extension of the Gold Coast Light Rail to Helensvale (referred to as Stage 2) which will be delivered and operational in preparation for to the 2018 Commonwealth Games held in Gold Coast.
GoldLinQ CEO Phil Mumford said "Bombardier Transport will provide four additional trams and this is another important step towards connecting the light rail to heavy rail ahead of the Commonwealth Games."
Mr Mumford went on to say, "The yellow and blue trams have become synonymous with the Gold Coast and the new light rail vehicles required for Stage 2 are due to arrive from August 2017. These trams are designed specifically for the Gold Coast and will ensure the same high quality passenger experience and service frequency is maintained as the system expands."
Carsten Bopp, Head of Light Rail Vehicles, Bombardier Transportation said, "In their first year, the 14 trams already in passenger service have demonstrated their reliability by completing a total of 6.5 million trips on the line connecting Gold Coast University Hospital and Broadbeach South. This fact is proof of our strong commitment to providing high-quality, eco-friendly mobility solutions to the people of Gold Coast.''
Based on Bombardier's family of highly successful FLEXITY light rail vehicles, Gold Coast's trams feature Gold Coast's signature blue and gold colours and a wave motif on the cab front. Designed by Bombardier's Industrial Design team in Brisbane, the award-winning tram is also the first tram in the world to be built with specially designed surfboard racks.
The trams are 43.4 m long and 2.65 m wide with seven modules for higher capacity and better passenger flow. The vehicles are installed with the energy efficient BOMBARDIER MITRAC propulsion system and its BOMBARDIER FLEXX bogies provide a smooth, comfortable ride. The trams will be manufactured at Bombardier sites in Bautzen, Germany and Vienna, Austria. To date approximately 3,500 FLEXITY vehicles have been ordered or in successful revenue service in cities around the globe.
The GCLRT project is part of an 18-year public private partnership between the Queensland State Government and GoldLinQ. As operator franchisee of stage one of the GCLRT, GoldLinQ, a consortium that includes Bombardier Transportation, is responsible for the design, construction, operations and maintenance of the fleet.
Bombardier has been active in Australia for more than 60 years. Today, it has a workforce of more than 1,000 employees across 21 locations and is a complete provider of rail solutions and services. Bombardier's projects include Gold Coast Tram System, Melbourne FLEXITY E-Class trams, VLocity diesel trains, electric and diesel multiple units for Perth and Adelaide's 25kV electric train fleet, as well as new generation of commuter trains for Queensland.
About Bombardier Transportation
Bombardier Transportation is a global leader in rail technology and offers the broadest portfolio in the industry. It covers the full spectrum of rail solutions, ranging from trains to sub-systems and signalling. The company also provides complete transport systems, e-mobility technology and maintenance services. As an innovation driver, Bombardier Transportation continuously breaks new ground in sustainable mobility. It provides integrated solutions that create substantial benefits for operators, passengers and the environment. Headquartered in Berlin, Germany, Bombardier Transportation employs around 37,700 people and its products and services operate in over 60 countries.
About Bombardier
Bombardier is the world's leading manufacturer of both planes and trains. Looking far ahead while delivering today, Bombardier is evolving mobility worldwide by answering the call for more efficient, sustainable and enjoyable transportation everywhere. Our vehicles, services and, most of all, our employees are what make us a global leader in transportation.
Bombardier is headquartered in Montréal, Canada. Our shares are traded on the Toronto Stock Exchange (BBD) and we are listed on the Dow Jones Sustainability North America Index. In the fiscal year ended December 31, 2014, we posted revenues of $20.1 billion.