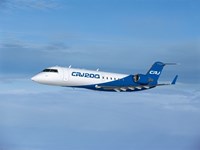 Bombardier Commercial Aircraft today welcomed Amman, Jordan-based Arab Wings, and its joint venture partner Iraq Gate of Arasat, Baghdad, to the family of CRJ Series aircraft owners and operators.
Iraq Gate commenced service in March 2015 with its first CRJ200 aircraft, adding two more in recent months. Iraq Gate will initially operate the aircraft, which were acquired by Arab Wings from a third party, on several domestic routes from Baghdad. Other domestic and international flights within and from Iraq are scheduled to follow.
"The excellent economics of the CRJ200 regional jet are ideally suited to meet the increasing transportation demands of Iraq's active oil and gas sector," said Ahmad Abu Ghazaleh, Chief Executive Officer, Arab Wings. "As the first business jet operator in Iraq, Iraq Gate is now benefitting from the addition of the dependable and reliable CRJ200 regional jet as it offers scheduled, charter and ad hoc services throughout the country."
"The CRJ200 aircraft enables Iraq Gate to offer our VIP clients and executives increased flexibility, superb range and an exceptional flying experience," said Sameer Hdairis, Manager, Business Development, Arab Wings.
"Bombardier is thrilled that Arab Wings and Iraq Gate have joined more than 60 airlines and over 60 corporate customers that fly our CRJ Series aircraft around the world," said John Kassis, Vice President, Sales, Middle East and Africa, Bombardier Commercial Aircraft. "The CRJ Series aircraft have been instrumental in revolutionizing regional route networks, and we are confident that the CRJ200 aircraft will be the optimal solution for Arab Wings and Iraq Gate's expansion plans."
Arab Wings' fleet currently includes three Bombardier Challenger 604 aircraft and one Global 5000 aircraft that the airline utilizes to meet clients' travel needs in the region and worldwide.
Regional aircraft manufactured by Bombardier have made significant advances in the Middle East and Africa where approximately 130 Q Series turboprops and 70 CRJ Series regional jets are in service with, or have been ordered by, over 50 customers and operators. Customers in the region have also placed orders and commitments for 37 all-new C Series aircraft.
Bombardier's customer support network for commercial aircraft in the Middle East and Africa includes Regional Support Offices (RSO) and Regional Parts Depots in Dubai and Johannesburg, as well as Authorized Service Facilities in South Africa and Ethiopia. Operating from the company's regional office located in the United Arab Emirates, Bombardier Commercial Aircraft's sales and marketing team is well positioned to provide industry-leading solutions to its current and prospective customers.
During the Dubai Airshow held in November 2015, Bombardier Commercial Aircraft announced that it had signed a Memorandum of Understanding and is in discussions with Abu Dhabi Aviation to work towards the establishment of Abu Dhabi Aviation as an Authorized Service Facility (ASF) for Q Series aircraft. The final agreement between Bombardier and Abu Dhabi Aviation is subject to acceptance of commercial terms and a final technical audit. When a final agreement is reached, Abu Dhabi Aviation will become the first ASF for Q Series aircraft in the Middle East and will offer line and base maintenance services. The company would also support operators in surrounding regions.
About CRJ Series Aircraft
Every 10 seconds a CRJ Series regional jet takes off somewhere in the world. The CRJ Series family of aircraft has trans­ported almost 1.6 billion passengers to become the world's most successful regional jet program -- linking people and communities like no other. The CRJ Series regional jets have revolutionized aviation with their proven efficiency, reliability and profitability.
The CRJ Series regional jets share commonality benefits that provide flexibility to operators and allow them to optimize their fleets to meet specific market demands. No other regional aircraft deliver this capability. Optimized for medium-haul regional routes, these aircraft can provide up to 10 per cent cash operating cost advantage over competing jets.
Each of the three CRJ Series aircraft models offers its own distinct advantages. The CRJ200 regional jet offers outstanding ownership cost, ideal for opening new routes and markets. The CRJ700 regional jet is the lightest aircraft in its category, delivering impressive efficiency, performance and fuel burn savings, while the CRJ900 regional jet offers tremendous flexibility and is ideally suited for growing markets. The CRJ1000 regional jet, which has the highest passenger capacity in the family, delivers the lowest seat-mile cost in the regional jet market and burns up to 13 per cent less fuel than its competitors.
Since its launch, the CRJ Series family of regional jets has stimulated the regional jet market. In North America alone, it accounts for over 20 per cent of all jet departures. Globally, the family operates more than 200,000 flights per month.
About Bombardier
Bombardier is the world's leading manufacturer of both planes and trains. Looking far ahead while delivering today, Bombardier is evolving mobility worldwide by answering the call for more efficient, sustainable and enjoyable transportation everywhere. Our vehicles, services and, most of all, our employees are what make us a global leader in transportation.
Bombardier is headquartered in Montréal, Canada. Our shares are traded on the Toronto Stock Exchange (BBD) and we are listed on the Dow Jones Sustainability North America Index. In the fiscal year ended December 31, 2014, we posted revenues of $20.1 billion.