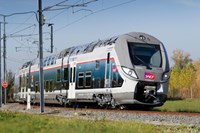 Global mobility solution provider Bombardier Transportation, has received a firm order for 11 additional BOMBARDIER OMNEO Premium, double-deck, electric multiple unit (EMU) trains (110 cars) from French National Railway Company (SNCF) on behalf of the Normandy Region, which is financing 100 per cent of the purchase. This additional order amounts to 162 million euro ($182 million US) and is part of the framework contract signed with SNCF in 2010 to provide up to 860 trains for France's Regions.
Previously on May 16, Bombardier received a separate firm order for 16 additional trains (160 cars) amounting to 245 million euro ($275 million US). The given values include price escalations based on best faith assessment of assumptions. In total, Bombardier will supply 27 additional OMNEO Premium trains to SNCF for the Normandy Region.
The Normandy Region plans to roll out these spacious, more comfortable trains on the highly frequented lines linking Paris to Vernon-Rouen and Paris to Evreux-Serquigny. The first trains of this order will be delivered at the end of 2023. Once delivered, the Region will have a fleet of 67 OMNEO Premium trains, which will be maintained mainly in the new Sotteville-lès-Rouen
SNCF technicentre, as well as in Caen and Le Havre. The Region's strategy, based on a fleet from the same train family, will enable an increase in operational flexibility and optimize maintenance costs.

"Passengers will discover a new style of train travel with the Bombardier OMNEO Premium. Our engineers have focused on allowing ample space for passengers, more seats and highly comfortable interior fittings. Designed and manufactured at our site in Crespin in the Hauts-de-France region, these trains are certified 'Origine France Garantee'," said Laurent Bouyer, President of Bombardier Transportation France.
In January 2020, Bombardier started delivering the first OMNEO trainsets from the initial order for 40 trains signed in November 2016 and these trains have already entered commercial operation. The Normandy Region is the first one to order OMNEO trains and Bombardier has developed a unique interior and exterior design to match the Region's visual identity.
About Bombardier Transportation

Bombardier Transportation is a global mobility solution provider leading the way with the rail industry's broadest portfolio. It covers the full spectrum of solutions, ranging from trains to sub-systems and signalling to complete turnkey transport systems, e-mobility technology and data-driven maintenance services. Combining technology and performance with empathy, Bombardier Transportation continuously breaks new ground in sustainable mobility by providing integrated solutions that create substantial benefits for operators, passengers and the environment. Headquartered in Berlin, Germany, Bombardier Transportation employs around 36,000 people and its products and services operate in over 60 countries.