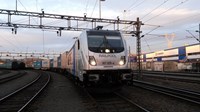 Rail technology leader Bombardier Transportation has signed a contract to provide a combination of 18 BOMBARDIER TRAXX Multi-System (MS) and BOMBARDIER TRAXX AC Last Mile locomotives for the Munich-based locomotive leasing company Railpool. With this new order, Railpool's locomotive fleet totals 183 vehicles, 169 of which are TRAXX locomotives. Based on the list price, the order is valued at approximately 75 million euro ($82 million US).
This order marks the successful TRAXX AC Last Mile locomotive's entry into the Scandinavian rail market. The TRAXX AC Last Mile locomotive is an electric locomotive that features a support diesel engine and battery. In many cases, diesel or electric trains must carry an additional shunting locomotive on their entire trip to be able to cross the short non-electrified 'last mile' sections in places such as harbours or terminals. Bombardier's Last Mile feature enables the TRAXX locomotive to bridge these non-electrified track sections, effectively eliminating the need for support diesel shunting locomotives.
In addition to being able to operate on these non-electrified track sections for up to eight hours, the TRAXX AC locomotive is also well-equipped for service in Scandinavia's often harsh environment. Even when operating in Last Mile mode, it has sufficient force to climb the several kilometre-long steep inclines commonly found in the region and, in case of power failure, the driver's cab can remain heated for a full week.
Eight of the new locomotives will be of the MS type and operate on the new, extended Germany-Austria-Switzerland-Italy-Netherlands-Belgium corridor while five more MS type locomotives will operate on the Germany-Austria-Belgium-Netherlands corridor. The remaining five TRAXX AC Last Mile type locomotives will be for use in Sweden and Norway. Bombardier has extensive experience in Scandinavia as more than 100 of the TRAXX AC2 locomotives have already been sold for operation there. The delivery of the first TRAXX AC Last Mile locomotive to Railpool for use in Scandinavia is scheduled for the third quarter 2016.
About Bombardier Transportation
Bombardier Transportation is a global leader in rail technology and offers the broadest portfolio in the industry. It covers the full spectrum of rail solutions, ranging from trains to sub-systems and signalling. The company also provides complete transport systems, e-mobility technology and maintenance services. As an innovation driver, Bombardier Transportation continuously breaks new ground in sustainable mobility. It provides integrated solutions that create substantial benefits for operators, passengers and the environment. Headquartered in Berlin, Germany, Bombardier Transportation employs around 37,700 people and its products and services operate in over 60 countries.
About Bombardier
Bombardier is the world's leading manufacturer of both planes and trains. Looking far ahead while delivering today, Bombardier is evolving mobility worldwide by answering the call for more efficient, sustainable and enjoyable transportation everywhere. Our vehicles, services and, most of all, our employees are what make us a global leader in transportation.
Bombardier is headquartered in Montréal, Canada. Our shares are traded on the Toronto Stock Exchange (BBD) and we are listed on the Dow Jones Sustainability North America Index. In the fiscal year ended December 31, 2014, we posted revenues of $20.1 billion.