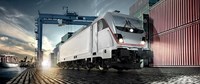 Rail technology leader Bombardier Transportation has signed a contract to provide 62 TRAXX AC locomotives to Israel Railways (ISR). Based on the list price, the new order is valued at approximately 230 million euro (262 million US)[1]. The contract also includes an option for an additional 32 locomotives.
Boaz Tzafrir, CEO of Israel Railways, said, "The Israel Railways electrification project is advancing and becoming a reality. The transition to electric operation, a standard practice in all advanced countries, will be a significant leap forward in every field relating to the operation of the Israel Railways and a key factor in Israel Railways' future growth."
Yossi Daskal, Chief Country Representative and Head of Sales Israel, Bombardier Transportation, said, "We feel honored to have been selected for this significant order. We have been working in close partnership with Israel Railways for decades, having already delivered and retrofitted a large fleet of double deck coaches. Our long term relationship with Israel Railways is based on a clear understanding of how our transport solutions can continue to best meet the mobility needs of the people of Israel."
The TRAXX locomotive is based on a highly reliable and versatile locomotive platform that has proven its technology through years of successful operations across Europe. Designed for speeds up to 160 km/h, the new TRAXX AC locomotives will be mainly used to power Israel's fleet of 369 BOMBARDIER TWINDEXX Vario double deck coaches currently in use. The locomotives also feature the highly reliable and field proven BOMBARDIER MITRAC TC 3300 AC Traction Converter as well as universal MITRAC drives, which include the latest generation of traction motors and gearboxes.
The new locomotives will be nearly identical to the TRAXX AC locomotives already in service with German Rail Operator, Deutsche Bahn and, as ISR's first electrically powered rolling stock, will play a key role in Israel's program to electrify its rail network. The first deliveries are planned for the end of 2017.
[1] The contract was signed September 20, 2015 and will be recorded in Bombardier's third quarter financial results.
About Bombardier Transportation
Bombardier Transportation, a global leader in rail technology, offers the broadest portfolio in the rail industry and delivers innovative products and services that set new standards in sustainable mobility. BOMBARDIER ECO4 technologies – built on the four cornerstones of energy, efficiency, economy, and ecology – conserve energy, protect the environment, and help to improve total train performance for operators and passengers. Bombardier Transportation is headquartered in Berlin, Germany, and has a very diverse customer base with products or services in more than 60 countries. It has an installed base of over 100,000 vehicles worldwide.
About Bombardier
Bombardier is the world's leading manufacturer of both planes and trains. Looking far ahead while delivering today, Bombardier is evolving mobility worldwide by answering the call for more efficient, sustainable and enjoyable transportation everywhere. Our vehicles, services and, most of all, our employees are what make us a global leader in transportation.
Bombardier is headquartered in Montréal, Canada. Our shares are traded on the Toronto Stock Exchange (BBD) and we are listed on the Dow Jones Sustainability World and North America Indices. In the fiscal year ended December 31, 2014, we posted revenues of $20.1 billion.