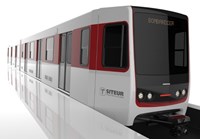 Rail technology leader Bombardier Transportation announced today that it has won an order from the Electric Urban Train System of Guadalajara (SITEUR) to supply 12 Light Rail Vehicles (LRVs) of the TEG-15 model, consisting of two cars each, that will run in Line one of SITEUR in Guadalajara. The contract is valued at approximately 752 million Mexican pesos ($44 million US, 40 million euros).
"As an innovation driver, Bombardier has developed many new features on the vehicles in order to improve the experience for all the people who use the Guadalajara public transit system every day. As part of the innovations, the trains will have an On Board Video Recording System (OVRS), new fire and smoke detection system, Light Emitting Diode (LED) technology and will be accessible to wheelchairs." said Raymond Bachant, President, Bombardier Transportation, Americas Division.
The teams of Bombardier Transportation's facility in Ciudad Sahagún, State of Hidalgo, are leading the development of the process, from design and engineering to complete production and putting the vehicles into service.
The 29.56 metres long articulated carbon steel trams will run in pairs and are designed for a maximum capacity of 48 seated passengers and more than 300 standing passengers per vehicle. The new vehicles will be mechanically, electrically and pneumatically compatible with TEG-90 vehicles from SITEUR and will run to a maximum speed of 80 kilometres per hour. The new LRVs' design will be based on the existing fleet of TE-12 vehicles that were previously supplied by Bombardier to the Electric Transport Services of Mexico City (Servicio de Transportes Eléctricos del Distrito Federal, STEDF) in 2014, with a restyled end bonnet design. They have proven to be a success with high reliability and low maintenance costs.
About Bombardier Transportation
Bombardier Transportation is a global leader in rail technology and offers the broadest portfolio in the industry. It covers the full spectrum of rail solutions, ranging from trains to sub-systems and signalling. The company also provides complete transport systems, e-mobility technology and maintenance services. As an innovation driver, Bombardier Transportation continuously breaks new ground in sustainable mobility. It provides integrated solutions that create substantial benefits for operators, passengers and the environment. Headquartered in Berlin, Germany, Bombardier Transportation employs around 37,700 people and its products and services operate in over 60 countries.
About Bombardier
Bombardier is the world's leading manufacturer of both planes and trains. Looking far ahead while delivering today, Bombardier is evolving mobility worldwide by answering the call for more efficient, sustainable and enjoyable transportation everywhere. Our vehicles, services and, most of all, our employees are what make us a global leader in transportation.
Bombardier is headquartered in Montréal, Canada. Our shares are traded on the Toronto Stock Exchange (BBD) and we are listed on the Dow Jones Sustainability North America Index. In the fiscal year ended December 31, 2014, we posted revenues of $20.1 billion. News and information are available at bombardier.com or follow us on Twitter @Bombardier.