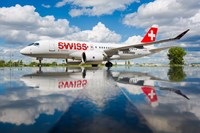 Bombardier Commercial Aircraft announced today that its all-new, recently-certified CS100 aircraft in the livery of first operator SWISS has kicked off demonstration tours and that its first stop will be Manama, in the Kingdom of Bahrain. In addition to stops in the Middle East, the aircraft – which is en route to the Singapore Airshow 2016 - is expected to make stops in a number of Asia-Pacific countries, as well as stops in Africa and Europe following its static presentation at Changi Airport in Singapore from February 15-18.
"Following the CS100 aircraft's certification and the latest updates from the C Series program, we have received a tremendous amount of interest from airlines and stakeholders worldwide -- all curious to see the only 100 per cent-new, single-aisle aircraft entering the market in close to three decades," said Colin Bole, Senior Vice President, Commercial, Bombardier Commercial Aircraft. "Kicking off this round of demonstration tours in the Gulf region will showcase to committed customers like Gulf Air, Iraqi Airways, SaudiGulf and Falcon Aviation how well-suited the CS100 aircraft is for their operations and the region. In fact, with its unique operational flexibility, low operating costs, superior passenger comfort and unmatched environmental scorecard, the C Series aircraft offers many advantages for airlines across the world."
In December 2015, Bombardier announced that the CS100 aircraft received its Transport Canada Type Certification. Bombardier's CS300 aircraft, the larger model, is on track to obtain its Type Certificate approximately mid-year 2016 as planned. The CS100 aircraft will be delivered and enter service with first operator Swiss International Air Lines (SWISS) in Q2 2016.
About C Series Aircraft
The C Series family of aircraft, representing the fusion of performance and technology, is a 100 per cent all-new design that offers operators up to US $13 million extra value per aircraft.
By focusing on the 100- to 150-seat market segment, Bombardier has designed the C Series aircraft to deliver unparalleled economic advantage to operators and to open up new opportunities for single-aisle aircraft operations.
By employing advanced materials, state-of-the-art technologies and advanced aerodynamics, combined with the groundbreaking Pratt & Whitney PurePower® PW1500G engine, the C Series aircraft is delivering a greater-than 10 per cent cost advantage compared to similarly sized re-engined aircraft. It also delivers seat costs that are similar to those of larger re-engined, single-aisle aircraft.
In addition to delivering best-in-class economics with the C Series aircraft, Bombardier has placed considerable emphasis on cabin design to ensure a superior passenger experience. The aircraft offers 19-inch-wide seats that set a new industry standard, large overhead bins that accommodate a carry-on bag for each passenger, and the largest windows in the single-aisle market. Together these attributes create a widebody feel that offers passengers an unparalleled level of comfort.
All noise performance testing on the CS100 aircraft has been completed and data confirms it is the quietest in-production commercial jet in its class. The aircraft's noise performance and its outstanding short-field capability make it ideal for varied types of operations.
The C Series aircraft's maximum range has also been confirmed to be up to 3,300 NM (6,112 km), some 350 NM (648 km) more than originally targeted.
Bombardier has booked orders and commitments for 603 C Series aircraft, which include firm orders for 243.
About Bombardier
Bombardier is the world's leading manufacturer of both planes and trains. Looking far ahead while delivering today, Bombardier is evolving mobility worldwide by answering the call for more efficient, sustainable and enjoyable transportation everywhere. Our vehicles, services and, most of all, our employees are what make us a global leader in transportation.
Bombardier is headquartered in Montréal, Canada. Our shares are traded on the Toronto Stock Exchange (BBD) and we are listed on the Dow Jones Sustainability North America Index. In the fiscal year ended December 31, 2014, we posted revenues of $20.1 billion. News and information are available at bombardier.com or follow us on Twitter @Bombardier.