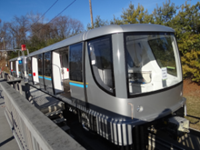 Rail technology leader Bombardier Transportation announced today that its BOMBARDIER INNOVIA APM 300 automated people mover (APM) system has been inaugurated at the Munich Airport in Germany, along with the new satellite building. This innovative dual-lane passenger transit system connects Terminal 2, via an underground tunnel, to the new satellite facility located 400 metres away. Bombardier designed, built and commissioned all of the electrical and mechanical equipment, including twelve APM vehicles. The INNOVIA APM 300 system will enter service on April 26, 2016 to increase passenger capacity at the airport. Bombardier will provide nine years of operation and maintenance services for the new airport transit system.

Germar Wacker, President, Mainline and Metros, Central and Eastern Europe region (CEE) at Bombardier Transportation stated, "Bombardier has extensive global experience in the design, build and supply, as well as operation and maintenance, of driverless transit systems. Our modern mobility solutions for passenger transfers are in successful operation at airports all over the world. The latest generation of INNOVIA APM 300 technology meets the high quality and service standards of the five-star Munich Airport and it will further optimise the transportation of passengers there reliably and efficiently."

The INNOVIA APM 300 system was selected by the Munich Airport due to its flexibility and exceptional reliability. The new transport system is 700 metres long in total and enables short transfer times at Munich Airport by providing the capacity needed to transport different amounts of passengers. The vehicles cover the distance between the two buildings in less than one minute and, during peak times, up to 10,900 passengers can be transported per hour, per direction with the shuttle service. The twelve INNOVIA APM 300 vehicles are equipped with the BOMBARDIER c automatic train control technology for driverless operation.
Bombardier has already supplied more than 50 fully-integrated, turnkey driverless transport systems around the world, transporting around 1.7 billion passengers per year in total. Turnkey solutions bring together the entire spectrum of Bombardier's expertise, ranging from vehicles and signalling technology to project management, system integration, and operation and maintenance services. Bombardier has more than 45 years of experience in delivering and supporting driverless transit systems.
About Bombardier Transportation
Bombardier Transportation is a global leader in rail technology and offers the broadest portfolio in the industry. It covers the full spectrum of rail solutions, ranging from trains to sub-systems and signalling. The company also provides complete transport systems, e-mobility technology and maintenance services. As an innovation driver, Bombardier Transportation continuously breaks new ground in sustainable mobility. It provides integrated solutions that create substantial benefits for operators, passengers and the environment. Headquartered in Berlin, Germany, Bombardier Transportation employs around 39,400 people and its products and services operate in over 60 countries.