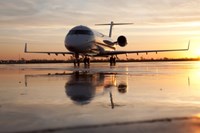 Bombardier Business Aircraft is pleased to congratulate Singapore Polytechnic on the grand opening of its AeroHub. The four-story AeroHub, which opened on January 5, 2015, will house the Aeronautical and Aerospace Electronics Engineering laboratories, along with facilities typically found in an industry aircraft hangar. The new facility will also synergize the teaching and learning activities for Singapore Polytechnic's Diploma in Aeronautical Engineering (DARE) and Diploma Aerospace Electronics (DASE) students.
The opening of the AeroHub follows Singapore Polytechnic and Bombardier Business Aircraft's Memorandum of Understanding (MOU), signed February 2014, to advance real-world training of students in aeronautical engineering. As a partnership between a world-leading business aircraft manufacturer and a local academic institution, the MOU was the first of its kind and reflects the commitment of both parties to supporting engineering education, research and student development.
Singapore Polytechnic students were provided the opportunity to complete internships at Bombardier Business Aircraft's Singapore Service Centre. Third-year students from Singapore Polytechnic's DARE and DASE courses completed a semester-long industrial project internship at the Singapore Service Centre within its new interior shop. The DARE and DASE courses were launched in 2002 and 2003, respectively, and were the first such programs to be offered by an academic institution in Singapore.
"Bombardier Business Aircraft is privileged to partner with Singapore Polytechnic," said Simon Wayne, General Manager, Singapore Service Centre. "Nurturing real-world training of students in aeronautical engineering is not only beneficial to the students and their future careers, but also directly supports the sustainability of our talent pipeline, and ultimately, our success as a business. We were delighted to welcome this passionate, engaged group of students to our Service Centre and are grateful for their contributions to our facility."
"We congratulate Singapore Polytechnic on this important achievement," said Andy Nureddin,
Vice President and General Manager, Customer Services, Bombardier Business Aircraft. "The opening of the AeroHub is another signal that Singapore's aerospace cluster is flourishing, and directly supports our presence in and long-term commitment to the Asia Pacific region. We are proud to be a partner in the development of Singapore's aviation industry."
The Singapore Service Centre is Bombardier Business Aircraft's first wholly-owned service facility in the Asia Pacific region. With its dedicated staff of over 90 people, the facility features 10,000 square metres (108,000 square feet) of space and is equipped to perform scheduled and unscheduled maintenance, modifications, including interior refurbishment and modifications, avionics installations, and Aircraft on Ground (AOG) support for Bombardier Learjet, Challenger and Global aircraft.
In just over two years of operations in Singapore, the Service Centre has received certifications from European Aviation Safety Agency (EASA), Federal Aviation Administration (FAA), Singapore, Bermuda, Cayman Islands, Hong Kong, Philippines, Malaysia, Isle of Man, Taiwan, Qatar, India, Australia and United Arab Emirates (UAE). As part of its commitment to operators in the Asia Pacific region, the strategically located Service Centre forms the foundation of a full-service hub in the region that houses Bombardier's current Singapore Regional Support Office (RSO) and is closely networked with Bombardier's RSOs in Shanghai, Hong Kong and Sydney, as well as its parts depots in Beijing, Tokyo, Sydney, Hong Kong and Singapore.
Located at Seletar Airport, the Singapore Service Centre is one of seven wholly-owned Bombardier Business Aircraft Service Centres that comprise its maintenance network, including Dallas, Hartford, Fort Lauderdale, Tucson and Wichita in North America, Amsterdam, Netherlands, a line maintenance station in Nice, France, and a total of 15 Customer Response Team mobile units worldwide.
About Bombardier
Bombardier is the world's leading manufacturer of both planes and trains. Looking far ahead while delivering today, Bombardier is evolving mobility worldwide by answering the call for more efficient, sustainable and enjoyable transportation everywhere. Our vehicles, services and, most of all, our employees are what make us a global leader in transportation.
Bombardier is headquartered in Montréal, Canada. Our shares are traded on the Toronto Stock Exchange (BBD) and we are listed on the Dow Jones Sustainability North America Index. In the fiscal year ended December 31, 2014, we posted revenues of $20.1 billion.