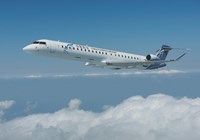 Bombardier Commercial Aircraft announced today that China Express Airlines (China Express) has placed a firm order for 10 CRJ900 regional jets, raising its total orders for this model of aircraft to 38. With this transaction, China Express has exercised eight previously acquired options for CRJ900 aircraft. To date, 20 of the CRJ900 aircraft ordered by China Express have been delivered.
Based on the list price of the CRJ900 aircraft, the order announced today is valued at approximately $462.6 million US.
Based in Chongqing and four other cities, China Express launched operations in 2006 and specializes in regional services. The airline now serves 62 cities in China.
"China Express is committed to providing air services to people in Tier 3 and Tier 4 cities in China. Our mission is to improve the connectivity by air for those communities," said Wu Longjiang, President, China Express Airlines. "The CRJ900 is the right aircraft for our cooperation with major airlines on code sharing and connecting flights, as well as cooperation with cities. It offers excellent economics and reliability and is well liked by our passengers. We continue to expand our fleet with these fine aircraft to serve both current and future demand and destinations."
"We are very pleased with China Express Airlines' continuing confidence in the CRJ900 jetliner and its role in expanding regional airline services in China," said Andy Solem, Vice President, Sales, China and North Asia, Bombardier Commercial Aircraft. "Our 2015-2034 Commercial Aircraft Market Forecast expects delivery of some 900 60- to 100-seat airliners to China during the forecast period and the CRJ900 regional jet is proving to be a perfect fit in that market segment."
"Bombardier has made significant enhancements to the CRJ900 aircraft since its introduction -- most significantly a 5.5 per cent fuel burn reduction compared to earlier models -- and the aircraft is now in service with more than 20 airlines and other operators that recognize its superior performance," said Fred Cromer, President, Bombardier Commercial Aircraft. "With today's announcement, we are delighted that firm orders for CRJ900 jetliners have crossed another milestone and now stand at 409 aircraft. This is a great way to end the year. Congratulations to all!"
About CRJ Series Aircraft
Every 10 seconds a CRJ Series regional jet takes off somewhere in the world. The CRJ Series family of aircraft has trans­ported almost 1.6 billion passengers to become the world's most successful regional jet program -- linking people and communities like no other. The CRJ Series regional jets have revolutionized aviation with their proven efficiency, reliability and profitability.
The CRJ Series regional jets share commonality benefits that provide flexibility to operators and allow them to optimize their fleets to meet specific market demands. No other regional aircraft deliver this capability. Optimized for medium-haul regional routes, these aircraft can provide up to 10 per cent cash operating cost advantage over competing jets.
Each of the three CRJ aircraft models offers its own distinct advantages. The CRJ700 regional jet is the lightest aircraft in its category, delivering impressive efficiency, performance and fuel burn savings, while the CRJ900 regional jet offers tremendous flexibility and is ideally suited for growing markets. The CRJ1000 regional jet, which has the highest passenger capacity in the family, delivers the lowest seat-mile cost in the regional jet market and burns up to 13 per cent less fuel than its competitors.
Since its launch, the CRJ Series family of regional jets has stimulated the regional jet market. In North America alone, it accounts for over 20 per cent of all jet departures. Globally, the family operates more than 200,000 flights per month.
Bombardier has booked a total of 1,883 firm orders for CRJ Series aircraft.
About Bombardier
Bombardier is the world's leading manufacturer of both planes and trains. Looking far ahead while delivering today, Bombardier is evolving mobility worldwide by answering the call for more efficient, sustainable and enjoyable transportation everywhere. Our vehicles, services and, most of all, our employees are what make us a global leader in transportation.
Bombardier is headquartered in Montréal, Canada. Our shares are traded on the Toronto Stock Exchange (BBD) and we are listed on the Dow Jones Sustainability North America Index. In the fiscal year ended December 31, 2014, we posted revenues of $20.1 billion.