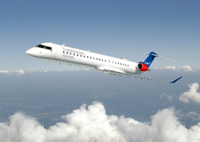 CRJ900 regional jets have proven to be the most efficient aircraft for CityJet's operations in the Scandinavian Airlines network
Bombardier Commercial Aircraft announced today that a firm purchase agreement, consistent with the conditional agreement announced on January 24, 2017, has been finalized with Dublin-based regional carrier, CityJet. The firm agreement includes six CRJ900 aircraft and options for an additional four aircraft. Upon delivery, the aircraft will operate under wet lease in the Scandinavian Airlines (SAS) network.
As previously announced and based on the list price of the CRJ900 aircraft, the firm order is valued at approximately US $280 million and could increase to US $467 million, should CityJet exercise all its options.
"The CRJ900 aircraft has proven to be cost efficient and operationally flexible in supporting our contract flying with Scandinavian Airlines and we look forward to the delivery of up to ten more via the firm purchase agreement announced today," said Pat Byrne, Executive Chairman, CityJet. "We are also delighted with the CRJ900 aircraft's enhanced passenger amenities."
"With this firm purchase agreement, CityJet continues to put its confidence in Bombardier and its products. We wish the airline well as it continues to develop its network across Europe while benefitting from the CRJ900 aircraft's superior performance and economics," said Ryan DeBrusk, Vice President, Sales, Europe, Russia & Commonwealth of Independent States, Bombardier Commercial Aircraft.
CityJet currently owns a fleet of eight CRJ900 aircraft which are on wet lease service with SAS. The airline will also take delivery of four new CRJ900 aircraft in early 2017 as per Bombardier's order announcement on April 25, 2016, bringing CityJet's owned fleet of CRJ900 aircraft to 12. As part of its acquisition of Cimber A/S, a regional airline in Denmark and a former wholly owned subsidiary of SAS, CityJet will operate Cimber's fleet of 11 CRJ900 aircraft also on wet lease service with SAS. These aircraft will be replaced by up to 10 additional CRJ900 aircraft ordered under the firm purchase agreement with Bombardier that was announced today.
About CityJet
CityJet is an Irish-based regional airline with its headquarters in Swords, Dublin. The airline was established in 1993 to operate services between Dublin and London City Airport and today operates ten routes from across Europe to London City, where it currently holds approximately 30% of the airport slots. CityJet also has a significant wet lease business, including services on behalf of Air France and SAS and operates a wide range of ad hoc charters on behalf of sports groups, the entertainment industry, tour operators and corporate customers.
In March 2016, CityJet was purchased by an investment group led by Executive Chairman Pat Byrne. The airline is now focused on delivering a strategy which sees it consolidate its scheduled business and grow its position as a leading provider of wet lease services to customer airlines. www.cityjet.com
About CRJ aircraft
Every 10 seconds a CRJ Series regional jet takes off somewhere in the world. The CRJ Series family of aircraft has transported almost 1.6 billion passengers to become the world's most successful regional jet program -- linking people and communities like no other. The CRJ Series regional jets have revolutionized aviation with their proven efficiency, reliability and profitability.
The CRJ Series regional jets share commonality benefits that provide flexibility to operators and allow them to optimize their fleets to meet specific market demands. No other regional aircraft deliver this capability. Optimized for medium-haul regional routes, these aircraft can provide up to 10 per cent cash operating cost advantage over competing jets.
Each of the CRJ aircraft models offers its own distinct advantages. The CRJ200 regional jet offers outstanding ownership cost, ideal for opening new routes and markets. The CRJ700 regional jet is the lightest aircraft in its category, delivering impressive efficiency, performance and fuel burn savings, while the CRJ900 regional jet offers tremendous flexibility and is ideally suited for growing markets. The CRJ1000 regional jet, which has the highest passenger capacity in the family, delivers the lowest seat-mile cost in the regional jet market and burns up to 13 per cent less fuel than its competitors.
Since its launch, the CRJ Series family of regional jets has stimulated the regional jet market. In North America alone, it accounts for over 20 per cent of all jet departures. Globally, the family operates more than 200,000 flights per month.
The CRJ Series aircraft family includes over 100 owners and operators in 49 countries, and the worldwide fleet has logged more than 45 million flight hours. To date, Bombardier has booked firm orders for 1,908 CRJ aircraft.
About Bombardier
Bombardier is the world's leading manufacturer of both planes and trains. Looking far ahead while delivering today, Bombardier is evolving mobility worldwide by answering the call for more efficient, sustainable and enjoyable transportation everywhere. Our vehicles, services and, most of all, our employees are what make us a global leader in transportation.
Bombardier is headquartered in Montréal, Canada. Our shares are traded on the Toronto Stock Exchange (BBD) and we are listed on the Dow Jones Sustainability North America Index. In the fiscal year ended December 31, 2015, we posted revenues of $18.2 billion. News and information are available at bombardier.com or follow us on Twitter @Bombardier