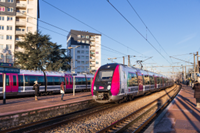 Bombardier Francilien trains are the best performing fleet in Île-de-France
Rail technology leader Bombardier Transportation today announced that French National Railway Company, Société nationale des chemins de fer français (SNCF), has placed an order for 52 additional Francilien Electric Multiple Unit (EMU) commuter trains. The order, financed by Île-de-France's transport authority Syndicat des transports d'Île-de-France (STIF), is valued at approximately 348 million euro ($370 million US) and is a call off from a contract signed in 2006 with SNCF for a maximum of 372 trains. The first trains of this order will be delivered in early 2018 and will operate from the Paris Saint Lazare Station as part of the STIF transportation modernisation plan.
"The Francilien, specially designed and manufactured for the Ile-de-France at our site in Crespin, Hauts-de-France, is a reliable, high performing train that meets ongoing challenges experienced in such densely populated areas", stated Laurent Bouyer, President, Bombardier Transportation France. "These modern trains offer room for up to 1,000 people with wide doors for easy accessibility and open gangways that increase passenger flow. All these features are contributing greatly to the punctuality of the service."
To date there are almost 200 Francilien trains in service, testimony to the confidence in Bombardier to deliver reliable products as part of its ongoing long term partnership with the French Railways and the STIF. The Francilien fleet boasts the highest performance rates on SNCF's Transilien network. As an innovation driver, from the start of the project, Bombardier focused on passenger needs and designed a modern spacious commuter train with a high capacity. It is equipped with modern security systems and the latest energy efficient and intelligent technologies that decrease the footprint on the environment.
Bombardier's site in Crespin, France's largest industrial rail site, designs, builds and operates innovative trains, meeting daily transport needs. The site built its reputation on the AGC regional trains and is now delivering two major projects: the Francilien commuter train for the Ile de France Region and the BOMBARDIER OMNEO double deck platform which includes the Regio 2N and the OMNEO Premium intercity train.
Nearly 1,000 "made in Hauts-de-France" Bombardier trains operate daily, offering reliable and comfortable journeys to passengers. In 2015, Bombardier trains travelled 150 million kilometers throughout France, which is equivalent to 550 000 private cars on the roads to ensure these journeys.
About Bombardier Transportation
Bombardier Transportation is a global leader in rail technology and offers the broadest portfolio in the industry. It covers the full spectrum of rail solutions, ranging from trains to sub-systems and signalling. The company also provides complete transport systems, e-mobility technology and maintenance services. As an innovation driver, Bombardier Transportation continuously breaks new ground in sustainable mobility. It provides integrated solutions that create substantial benefits for operators, passengers and the environment. Headquartered in Berlin, Germany, Bombardier Transportation employs around 39,400 people and its products and services operate in over 60 countries.