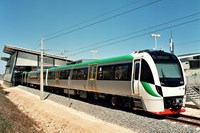 Bombardier to supply and maintain 10 B Series Electric Multiple Unit trains in joint venture with Downer EDI for Western Australia's Public Transport Authority (PTA)

New trains will meet the rising public demand for commuter rail services and support the Forrestfield Airport line extension, due to open in 2020

Vehicles to be assembled at Downer's Maryborough site in Queensland with electrical pre-assembly works by Bombardier in Victoria
Rail technology leader Bombardier Transportation announced today that its Australian joint venture with Downer EDI, known as EDI Rail Bombardier Transportation Pty Ltd has been awarded the contract by Western Australia's (WA) Public Transport Authority (PTA), to supply an additional 10 three-car commuter trains (30 cars). It is an extension to the contract for the Perth "B series" electric multiple unit (EMU) trains. Fleet maintenance to 2026 for both the "A" and "B" series train fleets is also included. The total contract is valued at approximately $511 million AU ($384 million US, 340 million euro). Bombardier's direct share is valued at approximately $61 million AU ($46 million US, 40 million euro). Bombardier Transportation owns 50% of the shares in the EDI Rail Bombardier Transportation Pty Ltd joint venture and will include results of this subsidiary by using the equity method.
Perth's growing suburban population brings PTA the challenge of rising demand for commuter rail services. The proven asset management solution from Bombardier and Downer will benefit PTA by increasing capacity on the commuter network and improves the resilience of both the A and B Series fleets to ensure reliability and availability expectation are met.
"We are delighted to continue to support our long-term customer PTA with these additional B Series EMU trains and maintenance services. In addition to increasing capacity on Perth's commuter network, these trains provide a comfortable and sustainable mobility solution for the city's growing community. Bombardier will also apply its asset management expertise to optimize the total performance of PTA's commuter fleets, boosting reliability and availability for the train operator and its passengers," said Rene Lalande, Managing Director, Bombardier Transportation Australia.
The "B series" EMU platform is a local design by Bombardier in Australia. This latest order adds to the 1,180-strong EMU vehicle fleet of various designs already delivered by Bombardier across Queensland, Victoria, South Australia and Western Australia for almost 40 years. The trains will be equipped with the proven BOMBARDIER MITRAC Energy Saver propulsion, which is homogenous across all Bombardier's EMU fleets in Australia.
The trains will be manufactured at Downer's facility in Maryborough, Queensland, with electrical pre-assembly work to be undertaken by Bombardier at its Australian manufacturing facility in Victoria. This contract is an extension of PTA's original award for B Series EMU trains in 2011. Delivery of the first train is scheduled for the end of 2019.
Bombardier has been active in Australia for more than 60 years. Today, it has a workforce of more than 1,100 employees across 21 locations and it is a complete provider of rail solutions and services.
About Bombardier Transportation
Bombardier Transportation is a global leader in rail technology and offers the broadest portfolio in the industry. It covers the full spectrum of rail solutions, ranging from trains to sub-systems and signalling. The company also provides complete transport systems, e-mobility technology and maintenance services. As an innovation driver, Bombardier Transportation continuously breaks new ground in sustainable mobility. It provides integrated solutions that create substantial benefits for operators, passengers and the environment. Headquartered in Berlin, Germany, Bombardier Transportation employs around 39,400 people and its products and services operate in over 60 countries.