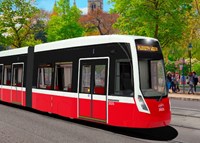 Bombardier Transportation receives firm order for 119 BOMBARDIER FLEXITY trams from Vienna Transport Authority Wiener Linien
Contract includes 24-year FlexCare maintenance management system agreement and options for further trams and maintenance
Rail technology leader Bombardier Transportation and the Vienna transport authority, Wiener Linien, have signed a contract for the manufacture of 119 FLEXITY Vienna trams, which includes a 24-year FlexCare maintenance management system agreement. The contract is valued at approximately 431 million euro ($480 million US) and includes an option for an additional 37 trams and further maintenance support. The vehicles will be manufactured at Bombardier's Vienna site.
Günter Steinbauer, CEO, Wiener Linien, said, "We wanted a vehicle that is modern, comfortable and environmentally-friendly, that fits the existing infrastructure and offers good value for money."
Carsten Bopp, Head of Light Rail Vehicles, Bombardier Transportation Austria said, "We are delighted that Wiener Linien has opted for our FLEXITY trams and the FlexCare maintenance management system. Our employees at the Vienna site are particularly proud that Bombardier trams will operate in their hometown. We would like to thank Wiener Linien for their trust and for giving us the opportunity to play a part in shaping the cityscape of Vienna."
The 34-meter long FLEXITY Vienna trams accommodate 211 passengers, feature wide passage ways, spacious multipurpose areas and low entrances, setting new standards for passenger comfort. The combination of internationally proven low-floor technologies and BOMBARDIER FLEXX Urban bogies also guarantees a smooth ride. Furthermore, due to the use of well-proven BOMBARDIER MITRAC propulsion equipment, the FLEXITY trams also distinguish themselves with an availability rating of over 95 percent.
The trams will be supported by FlexCare, Bombardier's innovative maintenance management system.
Easily integrated into existing maintenance processes, FlexCare enables customers to perform maintenance at their own depots under the overall maintenance management responsibility of Bombardier. This system guarantees high availability and reliability for the vehicles and offers customers planning reliability and cost certainty over the contract period.
More than 1,300 FLEXITY 100% low-floor trams have been sold to date. Overall, Bombardier now has more than 4,000 trams and light rail vehicles in successful revenue service or on order in cities across Europe, Asia, Australia and North America.
About Bombardier Transportation
Bombardier Transportation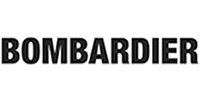 , a global leader in rail technology, offers the broadest portfolio in the rail industry and delivers innovative products and services that set new standards in sustainable mobility. BOMBARDIER ECO4 technologies – built on the four cornerstones of energy, efficiency, economy, and ecology – conserve energy, protect the environment, and help to improve total train performance for operators and passengers. Bombardier Transportation is headquartered in Berlin, Germany, and has a very diverse customer base with products or services in more than 60 countries. It has an installed base of over 100,000 vehicles worldwide.