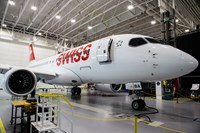 As the newest single-aisle aircraft to enter service in close to 30 years, the C Series is readying to deliver to launch operator SWISS at the end of June 2016
Bombardier Commercial Aircraft announced today that its CS100 aircraft has been awarded Type Validation by the European Aviation Safety Agency (EASA) and the Federal Aviation Administration (FAA) following a comprehensive testing program. The EASA and FAA validations follow the CS100 aircraft Type Certification awarded by Transport Canada in December 2015.
EASA's validation paves the way for the delivery of the first CS100 aircraft to launch operator Swiss International Air Lines ("SWISS") at the end of June and the aircraft's entry-into-service in July 2016. The FAA validation is a required precursor to operation of the aircraft in the U.S.
"In the same week that our C Series aircraft surpassed 5,000 flight hours and the first SWISS aircraft readies for its first flight, we are celebrating another very proud moment with the receipt of the CS100 aircraft EASA and FAA Type Validations. I congratulate our teams for all their hard work in delivering these latest significant accomplishments," said Robert Dewar, Vice President, C Series Program, Bombardier Commercial Aircraft. "As we move quickly towards the delivery of the first CS100 aircraft to SWISS, we are gratified that several aviation leaders are confirming what we have been saying all along -- the C Series aircraft will open up new opportunities for operators, while delivering unrivalled economic advantages, performance, and environmental credentials."
"Obtaining the CS100 aircraft Type Validations from EASA and the FAA marks one of the final chapters in our very successful test program," said François Caza, Vice President, Product Development and Chief Engineer and Head of Bombardier's Design Approval Organization. "Achieving these latest milestones is a direct result of the quality of the work by our highly skilled employees who were involved in the program as well as from the solid collaboration we established with our suppliers."
About C Series Aircraft
The C Series family of aircraft, representing the fusion of performance and technology, is a 100 per cent all-new design that offers operators up to US $13 million extra value per aircraft.
By focusing on the 100- to 150-seat market segment, Bombardier has designed the C Series aircraft to deliver unparalleled economic advantage to operators and to open up new opportunities for single-aisle aircraft operations.
By employing advanced materials, state-of-the-art technologies and advanced aerodynamics, combined with the groundbreaking Pratt & Whitney PurePower® PW1500G engine, the C Series aircraft is delivering a greater-than 10 per cent unit cost advantage compared to similarly-sized,
re-engined aircraft.
In addition to delivering best-in-class economics with the C Series aircraft, Bombardier has placed considerable emphasis on cabin design to ensure a superior passenger experience. The aircraft offers 19-inch-wide seats that set a new industry standard, large overhead bins that accommodate a carry-on bag for each passenger, and the largest windows in the single-aisle market. Together these attributes create a widebody feel that offers passengers an unparalleled level of comfort.
The game-changing C Series aircraft offers the best-in-class environmental scorecard and is the quietest in-production commercial jet in its class. With a combination of outstanding short-field capability and a maximum range of up to 3,300 NM (6,112 km), the C Series aircraft is uniquely positioned for varied types of operations.
About Bombardier
Bombardier is the world's leading manufacturer of both planes and trains. Looking far ahead while delivering today, Bombardier is evolving mobility worldwide by answering the call for more efficient, sustainable and enjoyable transportation everywhere. Our vehicles, services and, most of all, our employees are what make us a global leader in transportation.
Bombardier is headquartered in Montréal, Canada. Our shares are traded on the Toronto Stock Exchange (BBD) and we are listed on the Dow Jones Sustainability North America Index. In the fiscal year ended December 31, 2015, we posted revenues of $18.2 billion. News and information are available at bombardier.com or follow us on Twitter @Bombardier