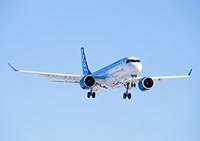 First CS300 aircraft delivery to airBaltic scheduled for the fourth quarter of 2016
Bombardier Commercial Aircraft announced today that the European Aviation Safety Agency (EASA) has awarded Type Validation to Bombardier's CS300 aircraft. The validation is a requirement for the aircraft's operation in Europe and a precursor to first delivery to CS300 launch operator, airBaltic of Latvia. Bombardier's first CS300 aircraft delivery to airBaltic is scheduled for the fourth quarter of 2016. EASA's validation follows the CS300 aircraft Type Certification awarded by Transport Canada in July 2016.
"Certifying two clean-sheet aircraft within a nine-month period is a major aviation industry achievement and today we celebrate the latest C Series program milestone with the CS300 EASA certification. We owe a great deal of thanks to the hundreds of Bombardier employees and suppliers who have worked so diligently and professionally to design and build the superb C Series aircraft -- the only single-aisle jetliners developed for the 100- to 150- seat market segment in close to 30 years," said Fred Cromer, President, Bombardier Commercial Aircraft.
"EASA's approval of our CS300 aircraft, as per schedule, recognizes the significant contribution of our highly skilled engineers and technical experts in the development and testing of the best-in-class C Series aircraft," said François Caza, Vice President, Product Development and Chief Engineer and Head of Bombardier's Design Approval Organization. "We fully expect that the CS300 aircraft's upcoming delivery and entry-into-service with airBaltic will be as successful as for the CS100 aircraft with SWISS."
"Our teams have produced an impressive family of airplanes with proven technology, performance, passenger amenities, economics and environmental qualifications that are turning heads and will be serving operators well in the future," said Robert Dewar, Vice President, C Series Aircraft Program. "Our focus is on the completion of the first production CS300 aircraft for launch operator airBaltic as their teams focus on completing their pilot and crew training for first delivery later this year."
Bombardier's smaller CS100 airliner, which was awarded Type Certification by Transport Canada in December 2015, and Type Validations by both EASA and the U.S. Federal Aviation Administration (FAA) in June 2016, successfully entered service with launch operator SWISS in July 2016.
Both airBaltic and SWISS have joined Bombardier's Smart Parts program for the C Series aircraft. The Smart Parts program maximizes aircraft utilization and minimize maintenance costs by providing comprehensive component maintenance, repair and overhaul services, access to strategically located spare parts exchange pools, and on-site inventories based at the airlines' hubs.
About C Series Aircraft
The C Series is the only aircraft optimized for the 100- to 150-seat market segment, which drives the aircraft's phenomenal economic proposition and performance, opening up new opportunities for single-aisle aircraft operation.
Comprised of the CS100 and the larger CS300 aircraft, the C Series family represents the fusion of performance and technology. The result is aircraft that deliver unmatched performance and economics in the 100- to 150-seat market segment and an 18 per cent lower cost per passenger, making them the ideal candidates to complement larger single-aisle aircraft. Airlines can now operate routes that were previously not profitable or even possible. An improvement in range in excess of 20 per cent out of hot-and-high airports such as Denver, Mexico City or Lhasa has been confirmed.
Bombardier has created a new standard in cabin design and flexibility to ensure an unrivalled passenger experience. The aircraft's larger seats, overhead bins and windows deliver a widebody feel that offers passengers unparalleled comfort in a single-aisle cabin.
The CS100 and the CS300 aircraft have over 99 per cent parts commonality as well as the same pilot type rating. The groundbreaking Pratt & Whitney PurePower® PW1500G engine, combined with the aircraft's advanced aerodynamics, delivers reduced fuel burn, noise, and emissions – making the
C Series the most community-friendly aircraft.
About Bombardier
Bombardier is the world's leading manufacturer of both planes and trains. Looking far ahead while delivering today, Bombardier is evolving mobility worldwide by answering the call for more efficient, sustainable and enjoyable transportation everywhere. Our vehicles, services and, most of all, our employees are what make us a global leader in transportation.
Bombardier is headquartered in Montréal, Canada. Our shares are traded on the Toronto Stock Exchange (BBD) and we are listed on the Dow Jones Sustainability North America Index. In the fiscal year ended December 31, 2015, we posted revenues of $18.2 billion. News and information are available at bombardier.com or follow us on Twitter @Bombardier