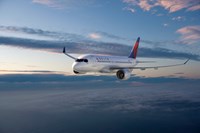 Delta orders 75 firm CS100 aircraft with options for 50 more CS100 aircraft
As the U.S. CS100 launch customer, order helps Delta reshape and modernize domestic fleet
Bombardier and Delta to hold joint press conference at 10:00 a.m. EDT in Mirabel, Québec
Bombardier Commercial Aircraft and Delta Air Lines, Inc. of Atlanta, Georgia (Delta Air Lines) announced today that the parties have executed a firm agreement for the sale and purchase of 75 CS100 aircraft with options for an additional 50 CS100 aircraft. Delta Air Lines may elect to convert a number of these aircraft into CS300 at a later date.
Based on the list price of the CS100 aircraft, the firm order is valued at approximately $5.6 billion US.

"As we reshape our fleet for the future, the innovative onboard experience of the C Series is a perfect complement for the top-notch service provided every day by Delta people," said Ed Bastian, Delta's incoming chief executive. "These new aircraft are a solid investment, allowing us to take advantage of superior operating economics, network flexibility and best-in-class fuel performance."

"Welcoming Delta Air Lines to the C Series family of operators is a watershed moment for our game-changing aircraft. As an industry leader, Delta consistently ranks first with customers, business leaders and its peers - a benchmark for operational performance," said Fred Cromer, President, Bombardier Commercial Aircraft. "This order is a resounding endorsement of the CS100 aircraft performance and its exceptionally low operating costs. In addition, its widest aisle, widest seats and largest bins in its class will be attractive features for Delta's passengers."

With this order, the largest in Bombardier Commercial Aircraft history, Delta becomes the C Series aircraft's largest customer. Deliveries are scheduled to commence in spring 2018.
About C Series Aircraft
The C Series family of aircraft, representing the fusion of performance and technology, is a 100 per cent all-new design that offers operators up to US $13 million extra value per aircraft.
By focusing on the 100- to 150-seat market segment, Bombardier has designed the C Series aircraft to deliver unparalleled economic advantage to operators and to open up new opportunities for single-aisle aircraft operations.
By employing advanced materials, state-of-the-art technologies and advanced aerodynamics, combined with the Pratt & Whitney PurePower® PW1500G engine, the CS100 is delivering a 15 to 20 per cent fuel burn advantage compared to other re-engined aircraft.
In addition to delivering best-in-class economics with the C Series aircraft, Bombardier has placed considerable emphasis on cabin design to ensure a superior passenger experience. The aircraft offers 19-inch-wide seats that set a new industry standard, large overhead bins that accommodate a carry-on bag for each passenger, and the largest windows in the single-aisle market. Together these attributes create a widebody feel that offers passengers an unparalleled level of comfort.
All noise performance testing on the CS100 aircraft has been completed and data confirms it is the quietest in-production commercial jet in its class. The aircraft's noise performance and its outstanding short-field capability make it ideal for varied types of operations.
The C Series aircraft's maximum range has also been confirmed to be up to 3,300 NM (6,112 km), some 3
50 NM (648 km) more than originally targeted.
About Delta
Delta Air Lines serves nearly 180 million customers each year. In 2016, Delta was named to Fortune's top 50 Most Admired Companies in addition to being named the most admired airline for the fifth time in six years. Additionally, Delta has ranked No.1 in the Business Travel News Annual Airline survey for an unprecedented five consecutive years. With an industry-leading global network, Delta and the Delta Connection carriers offer service to 324 destinations in 58 countries on six continents. Headquartered in Atlanta, Delta employs nearly 80,000 employees worldwide and operates a mainline fleet of more than 800 aircraft. The airline is a founding member of the SkyTeam global alliance and participates in the industry's leading trans-Atlantic joint venture with Air France-KLM and Alitalia as well as a joint venture with Virgin Atlantic. Including its worldwide alliance partners, Delta offers customers more than 15,000 daily flights, with key hubs and markets including Amsterdam, Atlanta, Boston, Detroit, Los Angeles, Minneapolis/St. Paul, New York-JFK and LaGuardia, London-Heathrow, Paris-Charles de Gaulle, Salt Lake City, Seattle and Tokyo-Narita. Delta has invested billions of dollars in airport facilities, global products and services, and technology to enhance the customer experience in the air and on the ground. Additional information is available on the Delta News Hub, as well as delta.com, Twitter @DeltaNewsHub, Google.com/+Delta, Facebook.com/delta and Delta's blog takingoff.delta.com.
About Bombardier
Bombardier is the world's leading manufacturer of both planes and trains. Looking far ahead while delivering today, Bombardier is evolving mobility worldwide by answering the call for more efficient, sustainable and enjoyable transportation everywhere. Our vehicles, services and, most of all, our employees are what make us a global leader in transportation.
Bombardier is headquartered in Montréal, Canada. Our shares are traded on the Toronto Stock Exchange (BBD) and we are listed on the Dow Jones Sustainability North America Index. In the fiscal year ended December 31, 2015, we posted revenues of $18.2 billion. News and information are available at bombardier.com or follow us on Twitter @Bombardier