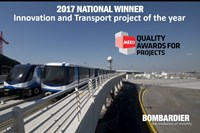 Automated People Mover System recognized for excellent reliability
System moves nearly 17 million passengers and covers 1 million fleet kilometers in its first year of service
Bombardier Transportation's Automated People Mover (APM) project in Dubai has won the prestigious, national-level Innovation and Transport Project of the Year Award at the 2017 MEED Quality Awards for Projects.
It's been just over a year since the world's first five-car APM system, the BOMBARDIER INNOVIA APM 300 system, opened at Dubai International Airport. Today the 1.5km elevated rail link system is providing a dedicated service for airline passengers travelling between Terminal 1 and Concourse D and throughout the first year of operation, almost 17 million passengers have used the APM, traveling a total of over 1 million fleet km.
The Bombardier Transportation Dubai team associated with this world-class operation, has provided flawless customer service for over a year, achieving an outstanding train performance average of 99.75% availability. The driverless APM system operates with the service-proven BOMBARDIER CITYFLO 650 communications-based train control (CBTC) technology, known for its high reliability, safety and short headways between trains. Together, the turnkey transit system has the capacity to transport more than 100,000 passengers daily.
"Bombardier has developed a high performing, energy efficient, fully-automated transit solution that provides a reliable connection for millions of airport passengers at this fast-growing, global aviation hub. It is an honor to receive such a prestigious award and to be recognized for the ongoing excellent work the team is doing in maintaining high performance." Said Wolfgang Postler, Head of Bombardier Transportation APM Services Execution, Europe, Middle East and Africa.
Now in its sixth year, MEED Quality Awards for Projects program has become the leading stamp of quality and achievement for top teams operating in the Gulf projects sector. The award not only recognises the production element of project delivery, but also consider the value and quality of a project throughout its entire life cycle, from the design concept through to engineering and construction and its wider contribution to society and to the environment.
About Bombardier Transportation
Bombardier Transportation is a global leader in rail technology and offers the broadest portfolio in the industry. It covers the full spectrum of rail solutions, ranging from trains to sub-systems and signalling. The company also provides complete transport systems, e-mobility technology and maintenance services. As an innovation driver, Bombardier Transportation continuously breaks new ground in sustainable mobility. It provides integrated solutions that create substantial benefits for operators, passengers and the environment. Headquartered in Berlin, Germany, Bombardier Transportation employs around 37,150 people and its products and services operate in over 60 countries.