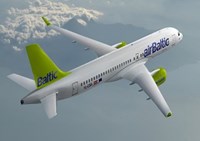 airBaltic will be the launch operator for the larger C Series variant
Aircraft scheduled to enter service with airBaltic on December 14, 2016
CS300 delivery follows the successful entry-into-service of the CS100 earlier this year
Bombardier Commercial Aircraft today announced the delivery of the first CS300 aircraft to launch operator Air Baltic Corporation AS (airBaltic), the flag carrier of Latvia. The CS300 is the larger variant of Bombardier's all new C Series aircraft, which is designed to carry between 130 and 150 passengers. The handover to airBaltic comes just five months after the successful entry into service of the CS100 variant of the C Series.
"We are thrilled to be taking home the first CS300 aircraft – the newest member of the most innovative and technologically advanced family of airliners in the world," said Martin Gauss, Chief Executive Officer, airBaltic. "With its longer range capabilities, lower fuel burn and reduced noise emissions compared to other airliners in its segment, the CS300 aircraft will enable airBaltic to open new routes and connect people all across Europe, while offering passengers an unparalleled in-flight experience.
"I would like to congratulate the entire Bombardier team; we are proud to collaborate with you on this great achievement," added Mr. Gauss.
"We congratulate airBaltic, the first airline in the world to operate the CS300 aircraft, for its forward-thinking vision. We thank them for their partnership and long-standing support and wish them continued success" said Fred Cromer, President, Bombardier Commercial Aircraft. "Wherever the C Series aircraft takes to the skies, it will be an ambassador for Bombardier and a symbol of Canadian innovation and achievement as the most technologically advanced aircraft for the 100- to 150-seat market segment."
"The delivery of the first CS300 aircraft is a major milestone and is the culmination of dedicated hard work and collaboration by thousands of employees, partners and suppliers. I congratulate the entire team for their commitment to the C Series aircraft program and for their perseverance in making this day possible," said Rob Dewar, Vice President, C Series Aircraft Program, Bombardier Commercial Aircraft.
''It is with pride that I acknowledge this significant, symbolic delivery, which once again confirms Québec's judicious decision to act as Bombardier's partner in the development and the industrialization of C Series aircraft. Indeed, Bombardier, which contributes $8.5 billion to Québec's gross domestic product, equivalent to 2% of the province's economy, is not only a key stakeholder in the Québec aerospace industry but is also generating substantial spinoff for the Québec economy overall," Minister of Economy, Science and Innovation and Minister responsible for the Digital Strategy Dominique Anglade noted.
The maiden commercial flight of airBaltic's first CS300 aircraft, which will take passengers from Riga to Amsterdam, is scheduled for December 14, 2016.
About airBaltic
Established in 1995, airBaltic (AIR BALTIC CORPORATION) is the world's most punctual airline connecting the Baltic region with 60 destinations in Europe, the Middle East, and the CIS. airBaltic is a joint stock company that was established in 1995. Its primary shareholder is the Latvian state.
The airBaltic fleet consists of 24 aircraft – 12 Boeing 737 and 12 Bombardier Q400. airBaltic has received numerous international awards for excellence, innovative services, and achievements in reshaping its business. In 2012, airBaltic was ranked by Airlinetrends among the Top 10 airlines globally for innovations. airBaltic achieved the best on-time performance globally for two years running in 2014 and 2015.
About Bombardier
Bombardier is the world's leading manufacturer of both planes and trains. Looking far ahead while delivering today, Bombardier is evolving mobility worldwide by answering the call for more efficient, sustainable and enjoyable transportation everywhere. Our vehicles, services and, most of all, our employees are what make us a global leader in transportation.
Bombardier is headquartered in Montréal, Canada. Our shares are traded on the Toronto Stock Exchange (BBD) and we are listed on the Dow Jones Sustainability North America Index. In the fiscal year ended December 31, 2015, we posted revenues of $18.2 billion.