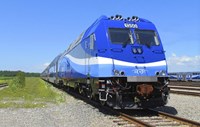 New agreement continues long-term partnership with Agence Métropolitaine de Transport (AMT)
Increases scope of work to operate AMT's fleet on all of its commuter rail lines
Latest contract strengthens Bombardier's position as industry-leading rail services provider
Rail technology leader Bombardier Transportation today announced that it has been awarded an eight-year contract by Montréal's Agence Métropolitaine de Transport (AMT) for the Operations and Maintenance of the AMT commuter rail fleet on all of its six lines in the greater Montréal area. The contract is valued at approximately $331 million CAD ($246 million US, 231 million euro). The agreement includes a two-year option. The new contract took effect on November 18, 2016.
"AMT's commuter rail service is one of the most important in North America and has been a growing success story for many years, and Bombardier is honoured to be a partner in its development." said Benoît Brossoit, President, Bombardier Transportation, Americas Region, "This continued confidence in the quality of our services confirms Bombardier's leadership position and highlights our strong services portfolio."
Bombardier has been providing Maintenance services for AMT since 2010. With this new contract, Bombardier's scope of work will not only cover the maintenance of AMT's entire fleet of 264 coaches and 41 locomotives, but will also extend to the Operations of AMT's commuter rail services. Over the past 12 months, Bombardier's average on-time performance for maintenance of the AMT fleet has been 99.87 percent, offering market-leading results even in harsh winter conditions.
"Agence métropolitaine de transport is happy to continue its partnership with Bombardier", said Stéphane Lapierre, Vice president Operations, at AMT. "We have a longstanding positive relationship that is based on the common objective of bringing state-of-the-art mobility solutions to the Greater Montréal area".
As a world-leading supplier of third party rail services, Bombardier offers added-value to its customers by providing integrated fleet support and solutions. Our comprehensive asset management services help deliver lower life-cycle costs for vehicle fleets, while maintaining high availability rates and on-time performance. By offering dependable and steadfast services to AMT and its entire customer base, Bombardier works at offering the quality of service and enhanced passenger experience necessary to help increase ridership and improve regional mobility.
Bombardier Transportation is the only global rail manufacturer with an important presence in Canada, with a workforce of more than 4,000 highly qualified employees. Every day, millions of Canadians in Montréal, Ottawa, Toronto and Vancouver rely on Bombardier urban rail vehicles and services to provide comfortable, safe and reliable public transit.
An established Bombardier customer, AMT is the second largest commuter train transit system in Canada and the sixth largest region in terms of traffic in North America, with an annual ridership of more than 19,000,000 on its commuter rail service. In addition to operating the commuter trains in the metropolitan area, AMT is the organization responsible for planning, integrating and coordinating mass transit services in the Greater Montreal area. Over the years, Bombardier has provided AMT with commuter rail cars, electric multiple units, dual-powered locomotives, as well as BOMBARDIER BiLevel and multilevel commuter rail cars.
Worldwide, Bombardier maintains more than 9,000 rail vehicles. In North America, Bombardier provides maintenance and/or operations services to transit systems including the Southern California Regional Rail Authority (Metrolink), the Central Florida Commuter Rail Transit project (SunRail) train service, the Maryland Area Regional Commuter (MARC) Train Service, Metrolinx/GO Transit in Toronto, New Jersey Transit, North County Transit District in North San Diego County, OC Transpo in Ottawa, the South Florida Regional Transportation Authority and TransLink's West Coast Express commuter rail system in British Columbia. Bombardier also supports transit systems with overhaul and refurbishment programs as well as with material and technology solutions.
About Bombardier Transportation
Bombardier Transportation is a global leader in rail technology and offers the broadest portfolio in the industry. It covers the full spectrum of rail solutions, ranging from trains to sub-systems and signalling. The company also provides complete transport systems, e-mobility technology and maintenance services. As an innovation driver, Bombardier Transportation continuously breaks new ground in sustainable mobility. It provides integrated solutions that create substantial benefits for operators, passengers and the environment. Headquartered in Berlin, Germany, Bombardier Transportation employs around 39,400 people and its products and services operate in over 60 countries.