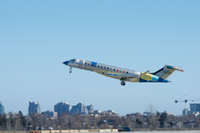 Global 7000 aircraft will provide passengers an uncompromising smooth ride
Global 7000 and Global 8000 program demonstrating solid maturity
FTV2 will join FTV1 at Bombardier's world-class flight test center in Wichita in the coming weeks
Bombardier Business Aircraft announced today that the Global 7000 and Global 8000 aircraft program's second flight test vehicle (FTV2) completed its initial flight. This milestone further confirms that the program's development is progressing well and that the Global 7000 aircraft is on track to enter into service in the second half of 2018.
FTV2, named, "The Powerhouse," is designed to test aircraft systems, including propulsion, electrical and mechanical systems, all of which were fully functional during the 4 hour, 28 minute flight.
Captain Jeff Karnes, assisted by his co-pilot, J.R. Marcolesco and Flight Test Engineer Ben Povall took off from Bombardier's Toronto facility at 10:50 a.m. EST on Saturday. The initial flight also tested the aircraft's performance at high altitude, with FTV2 climbing to 43,000 feet (13,106.4 metres), as expected.
"The successful flight of the first flight test vehicle (FTV1) in November 2016 paved the way to the smooth flight of FTV2 this past weekend," said Michel Ouellette, Senior Vice President, Global 7000 and Global 8000 Program. "We are focused on meeting the program's development and certification schedule and, once again, we have demonstrated our ability to deliver results through the hard work and dedication of the highly skilled teams working on the program."
"We now have a flight test vehicle dedicated to testing the aircraft's systems. Data from FTV2 will supplement the successful results we have already obtained from test rigs, including the Integrated Systems Test and Certification Rig (ISCTR) and, from the extensive flight testing of FTV1 to date," said Francois Caza, Vice President, Product Development and Chief Engineer, Bombardier. "We are on track with our test program and are very pleased with the progression and performance of our flight test vehicles to date. The dedication and collaboration our teams have shown were critical in achieving this significant milestone", he added.
About Bombardier
Bombardier is the world's leading manufacturer of both planes and trains. Looking far ahead while delivering today, Bombardier is evolving mobility worldwide by answering the call for more efficient, sustainable and enjoyable transportation everywhere. Our vehicles, services and, most of all, our employees are what make us a global leader in transportation.
Bombardier is headquartered in Montréal, Canada. Our shares are traded on the Toronto Stock Exchange (BBD) and we are listed on the Dow Jones Sustainability North America Index. In the fiscal year ended December 31, 2016, we posted revenues of $16.3 billion.