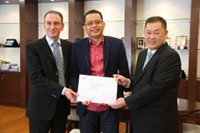 Consortium awarded contract for Line 2 of the transformative new mass transit network in the Greater Kuala Lumpur area

Partnership will further contribute to developing Malaysia's local rail expertise
A Bombardier Transportation-Global Rail Sdn. Bhd. consortium has won the contract to provide the rail control and signalling system including platform screen doors (PSD) for the second line of Malaysia's new Klang Valley Mass Rapid Transit (KVMRT) network. The Bombardier-led consortium will deliver the proven BOMBARDIER CITYFLO 650 communications-based train control (CBTC) solution for the 52.2 km KVMRT Line 2 which will connect Sungai Buloh, Serdang and Putrajaya, also known as the SSP Line.
The six-year contract, awarded by Mass Rapid Transit Corporation Sdn. Bhd. (MRT Corp), the owner and developer of the KVMRT project, has an overall value of approximately 433 million Malaysian ringgit (95 million euro, $106 million US). Bombardier's share totals approximately 220 million Malaysian ringgit (48 million euro, $54 million US), with Global Rail's share approximately 213 million Malaysian ringgit (47 million euro, $52 million US).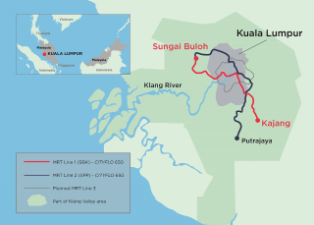 Peter Cedervall, President Rail Control Solutions, Bombardier Transportation said, "Winning this second rail control contract for the KVMRT network reflects our customer's confidence in our technology and delivery, and the value we place on building long-term partnerships in our markets. The new network will significantly improve transportation options for millions of people, and we look forward to continuing to work with Global Rail, MMC Gamuda JV and MRT Corp on both our projects which will have a major positive impact on the local environment and economy."
Fan Boon Heng, Managing Director, Global Rail Sdn. Bhd. Added, "We are very pleased to be working alongside Bombardier on this latest important project for Malaysia's growth. Our partnership of globally-proven technology and experience matched with extensive local knowledge and expertise is ensuring the best transportation solution for the heavily-populated Greater Kuala Lumpur area. In addition, Bombardier and Global Rail have been committed partners in promoting the development of Malaysia's rail industry and local expertise, which we will continue to jointly support throughout this latest project."
Within the consortium, Bombardier will provide the design and engineering of the proven CITYFLO 650 CBTC solution for driverless operation for the line as well as onboard equipment for 58 vehicles. Global Rail will be responsible for the PSD including automatic platform gates and the installation of the signalling solution. The contract will be delivered alongside project delivery partner MMC-Gamuda JV, responsible for the integrated delivery of the different civil works packages for the Line. Bombardier, together with Global Rail, is also delivering its CITYFLO 650 technology for the KVMRT Sungai Buloh - Kajang (SBK) Line 1 which will start full operation in July 2017. Both the SBK and SSP Lines are integral to the growth of the Greater Kuala Lumpur and Klang Valley Area, an important part of Malaysia's Economic Transformation Programme. By 2022, the KVMRT network is expected to carry approximately one million passengers per day. Other benefits will include reduced traffic, improved productivity, noise reduction and improved local air quality. Ultimately, the KVMRT network will be composed by three Mass Transit lines.
About Bombardier Transportation
Bombardier is the world's leading manufacturer of both planes and trains. Looking far ahead while delivering today, Bombardier is evolving mobility worldwide by answering the call for more efficient, sustainable and enjoyable transportation everywhere. Our vehicles, services and, most of all, our employees are what make us a global leader in transportation.