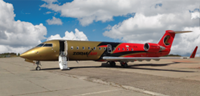 Bombardier Commercial Aircraft today congratulated Zoom Air, India's newest airline, on the recent launch of CRJ200 regional jet service with aircraft acquired from a third party. The airline has joined Bombardier's family of more than 100 CRJ Series aircraft owners and operators.
The airline, which is based in Gurgaon, Haryana, will operate from the Indira Gandhi International Airport in New Delhi and will serve 16 destinations, connecting smaller cities and towns across the country.
"The CRJ200 aircraft greatly complement our business model and will help our growth strategy, while providing excellent operational flexibility and passenger comfort," said Koustav M. Dhar, Chief Executive Officer and Director, Zoom Air. "We are excited by the potential these aircraft offer in allowing us to access new routes and destinations that are currently underserved – connecting businesses and people across the country."
"We are pleased to welcome Zoom Air to the family of CRJ Series aircraft operators and wish the airline much success as it launches operations in one of the rapidly growing aviation markets in the world," said Francois Cognard, Vice President, Sales, South-east Asia and Australasia, Bombardier Commercial Aircraft. "The CRJ Series regional jets have revolutionized aviation with their proven efficiency, reliability and profitability and are a great choice for new and established operators as they look to change the passenger travel experience over the next few decades."
Bombardier's Q Series turboprops, CRJ Series regional jets and all-new C Series aircraft are well positioned to meet India's requirements for increased numbers of commercial aircraft in the 60- to 150-seat market segment.
Bombardier operates a Regional Support Office in Gurgaon, and GMR Aero Technic supports operators of Q400 aircraft from its Bombardier Authorized Service Facility in Hyderabad.
About Bombardier
Bombardier is the world's leading manufacturer of both planes and trains. Looking far ahead while delivering today, Bombardier is evolving mobility worldwide by answering the call for more efficient, sustainable and enjoyable transportation everywhere. Our vehicles, services and, most of all, our employees are what make us a global leader in transportation.
Bombardier is headquartered in Montréal, Canada. Our shares are traded on the Toronto Stock Exchange (BBD) and we are listed on the Dow Jones Sustainability North America Index. In the fiscal year ended December 31, 2016, we posted revenues of $16.3 billion.