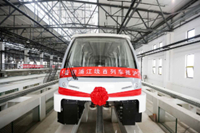 NNOVIA APM 300 vehicle to enter service on Shanghai Metro´s Line 8.
Eco-friendly system designed to minimise energy consumption and environmental footprint while increasing passenger capacity on the line.
Rail technology leader Bombardier Transportation is celebrating the delivery of the first BOMBARDIER INNOVIA automated people mover (APM) 300 vehicle to the city of Shanghai. The first of its type in China, the vehicle is from an order placed in June 2015 by Shanghai Shentong Metro Group Co. Ltd. for a turnkey APM system along with 44 INNOVIA APM 300 vehicles. The system will enter service later this year on Shanghai Metro's Line 8 Phase 3 Project, a new 6.6 km, dual-lane elevated, driverless APM system that will connect the large residential district of Pujiangzhen to the Line 8 interchange at the Shendu Highway Station.
Jianwei Zhang, President of Bombardier China, said, "We are proud that our world leading INNOVIA APM 300 system will start operation on one of the most dynamic and important urban mass markets in the world. We greatly appreciate the tremendous effort from our team, and especially the trust and support from our long term strategic partner Shanghai Shentong Metro Group Co., Ltd., which made it possible to deliver the APM on time, on quality and within budget. We are ready to make any needed support in the operation service and I am confident that we will see more Bombardier APM systems in Shanghai and other Chinese cities in the future."
The driverless INNOVIA APM 300 system is Bombardier's latest generation of highly-reliable APM technology. Its propulsion system allows it to operate at speeds up to 80 km/h while an advanced suspension and guidance system, coupled with rubber-tires, reduces noise and vibration to deliver an exceptionally smooth ride. Paired with the BOMBARDIER CITYFLO 650 CBTC system – an innovative communications-based train control technology – the INNOVIA APM 300 increases line's capacity by safely reducing the time and distance needed between each vehicle traveling on the line. Bombardier has already supplied its INNOVIA APM 100 technology to China with one system in Beijing and another in Guangzhou.
Bombardier has a long term strategic partnership with Shanghai Metro. To date, Bombardier and its joint ventures have delivered, or are in the process of delivering, 1,608 metro cars to Shanghai Metro, equipped with the BOMBARDIER MITRAC propulsion and auxiliary systems; and they are also responsible for the maintenance service of most of these metro cars.
Recognized as the most successful foreign rail transportation company in China, Bombardier has six joint ventures and seven wholly foreign-owned enterprises. Together, the joint ventures have delivered more than 3,500 high speed railway passenger cars, 560 of the world's highest power freight electric locomotives and over 2,000 metro cars to China's growing urban mass transit markets - all of which use Bombardier propulsion equipment. Bombardier propulsion equipment is also largely supplied to other third party metro car builders and are used in a total of 21 Chinese cities.
About Bombardier Transportation
Bombardier Transportation is a global leader in rail technology and offers the broadest portfolio in the industry. It covers the full spectrum of rail solutions, ranging from trains to sub-systems and signalling. The company also provides complete transport systems, e-mobility technology and maintenance services. As an innovation driver, Bombardier Transportation continuously breaks new ground in sustainable mobility. It provides integrated solutions that create substantial benefits for operators, passengers and the environment. Headquartered in Berlin, Germany, Bombardier Transportation employs around 39,400 people and its products and services operate in over 60 countries.