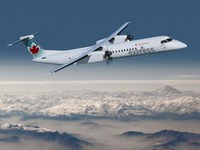 Longer-term agreement provides component support for the airline's growing fleet of Q400 aircraft until December 2025
Jazz now the largest customer of the Q400 aircraft Smart Parts program
Bombardier Commercial Aircraft and Jazz Aviation LP ("Jazz") of Halifax, Nova Scotia announced today that the airline has extended its Smarts Parts agreement with Bombardier to provide longer-term component support for its growing fleet of Q400 aircraft. The agreement, which was originally scheduled to conclude in 2020, has been extended to December 2025. The Smart Parts program provides Jazz with comprehensive component maintenance, repair and overhaul (MRO) services, access to a strategically located spare part exchange pool, and on-site inventories based at the airline's hubs in Toronto, Montréal, Vancouver and Calgary.
Jazz, a subsidiary of Chorus Aviation Inc., operates its fleet of Q400 aircraft under the Air Canada Express banner.
"Jazz and Bombardier Commercial Aircraft began their Smart Parts relationship in 2012, when we selected Bombardier to provide component maintenance support to our then-new fleet of 15 Q400 aircraft. Since then, Jazz has benefitted from the ready availability of spare parts that the program provides and our Q400 fleet has grown to 39 aircraft," said Kal Rebin, Vice President Maintenance and Engineering, Jazz Aviation LP. "Jazz has consistently been recognized as one of the most reliable operators of Q400 aircraft in North America, and we applaud the Smart Parts program for contributing to this success."
"The Smart Parts program provides our customers with superior part availability and cost predictability so they can focus on running their day-to-day operations with minimal related interruptions," said Todd Young, Vice President and General Manager, Customer Services, Bombardier Commercial Aircraft. "Our extended agreement with Jazz was tailored to provide the airline, our largest Q400 aircraft Smart Parts customer, with an enhanced, customized package for component support."
About Smart Parts
Bombardier Commercial Aircraft launched the Smart Parts program to provide Component Management Solutions in support of the Q400 aircraft fleet. The fleet supported by the Smart Parts program has now grown to more than 150 aircraft enrolled by Q400 and C Series aircraft customers.
About Jazz Aviation LP
Jazz Aviation LP has a strong history in Canadian aviation with its roots going back to the 1930s. Jazz is owned by Chorus Aviation Inc. Chorus' shares are traded on the Toronto Stock Exchange under the trading symbol 'CHR'. As the largest regional carrier in Canada, Jazz has a proven track record of industry leadership and exceptional customer service, and has leveraged that strength to deliver value to all its stakeholders. Jazz operates more flights and flies to more Canadian destinations than any other airline, and has a workforce of approximately 4,200 professionals, highly experienced in the challenging and complex nature of regional operations.
There are two airline divisions operated by Jazz Aviation LP: Air Canada Express and Jazz.
Air Canada Express
Under a capacity purchase agreement with Air Canada, Jazz provides service to and from lower-density markets as well as higher-density markets at off-peak times throughout North America with a fleet of 112 Canadian-made Bombardier aircraft.
Jazz
Under the Jazz brand, the airline offers charters throughout North America with a dedicated fleet of three Bombardier aircraft for corporate clients, governments, special interest groups and individuals seeking more convenience. Jazz also has the ability to offer airline operators services such as ground handling, dispatching, flight load planning, training and consulting.
About Bombardier
Bombardier is the world's leading manufacturer of both planes and trains. Looking far ahead while delivering today, Bombardier is evolving mobility worldwide by answering the call for more efficient, sustainable and enjoyable transportation everywhere. Our vehicles, services and, most of all, our employees are what make us a global leader in transportation.
Bombardier is headquartered in Montréal, Canada. Our shares are traded on the Toronto Stock Exchange (BBD) and we are listed on the Dow Jones Sustainability North America Index. In the fiscal year ended December 31, 2015, we posted revenues of $18.2 billion.