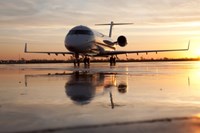 Facilities are operational effective immediately as Bombardier Business Aircraft Line Maintenance Stations.
All stations serve Learjet, Challenger and Global business aircraft.
Bombardier Business Aircraft is pleased to announce its establishment of five new line maintenance stations across Europe. The facilities provide line maintenance support to Bombardier Business Aircraft customers in Europe, complementing the tip-to-tail heavy maintenance services provided by Bombardier's Service and Support Network in the region and worldwide.
"This expansion is an integral part of our overall strategy to enhance OEM support for our European operators, including the opening of our brand new heavy maintenance facility at London Biggin Hill Airport," said Jean-Christophe Gallagher, Vice-President and General Manager, Customer Experience, Bombardier Business Aircraft. "As a part of our commitment to offering an exceptional customer experience, we are delighted to continue to offer our customers expanded support, more resources and increased flexibility closer to their base of operations."
The facilities are located in Linz, Austria; Nice and Cannes, France; and Milan and Olbia, Italy and provide scheduled line maintenance along with unscheduled and AOG maintenance support for Bombardier Learjet, Challenger and Global aircraft in the Europe region. The five stations are connected to Bombardier Business Aircraft's 24/7 Customer Response Centre, as well as Bombardier Business Aircraft's Customer Support Team.
The line maintenance facilities join Bombardier Business Aircraft's award-winning network of nine service centers and a total of 17 Customer Response Team mobile units worldwide, all equipped to support Bombardier Learjet, Challenger and Global business aircraft. The network's approximately 1,000 dedicated technicians have completed some 45,000 maintenance events to date, and share best practices to provide industry-leading maintenance and care. Bombardier Business Aircraft customers also have access to a broad network of nearly 50 Authorized Service Facilities around the world.
About Bombardier
Bombardier is the world's leading manufacturer of both planes and trains. Looking far ahead while delivering today, Bombardier is evolving mobility worldwide by answering the call for more efficient, sustainable and enjoyable transportation everywhere. Our vehicles, services and, most of all, our employees are what make us a global leader in transportation.
Bombardier is headquartered in Montréal, Canada. Our shares are traded on the Toronto Stock Exchange (BBD) and we are listed on the Dow Jones Sustainability North America Index. In the fiscal year ended December 31, 2016, we posted revenues of $16.3 billion.