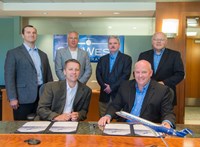 Bombardier Commercial Aircraft announced today that Bombardier Services Corporation has extended Heavy Maintenance Agreements with SkyWest, Inc. (NASDAQ: SKYW) carriers SkyWest Airlines, Inc. and ExpressJet Airlines, Inc. for a further 10 years. The agreements cover the airlines' fleets of CRJ Series regional jets.
The two airlines operate a total of 433 CRJ Series aircraft, including 234 CRJ200, 135 CRJ700 and 64 CRJ900 regional jets for Delta Air Lines, United Airlines, American Airlines and Alaska Airlines. SkyWest Airlines is based in St. George, Utah while ExpressJet is headquartered in Atlanta, Georgia.
The maintenance can be performed at any of Bombardier's maintenance facilities in the U.S.A. including the Tucson Air Center, West Virginia Air Center and Macon Air Center.
"Bombardier's CRJ Series airliners continue to be essential to our two airlines' fleets and have helped our company become one of the largest regional jet operators in the world," said Wade Steel, Chief Commercial Officer, SkyWest Inc. "As we continue to concentrate on our fleet, we know that our CRJ aircraft heavy maintenance remains in good hands with Bombardier."
"We are proud that SkyWest, Inc. has once again placed its confidence in Bombardier for the heavy maintenance of its CRJ Series aircraft fleet," said Todd Young, Vice President and General Manager, Customer Services, Bombardier Commercial Aircraft. "We manufactured these aircraft, we know them best, and we are determined to provide SkyWest Airlines and ExpressJet with the very best in maintenance to maximize their reliability and earning power. Including the fleets of aircraft operated by SkyWest Airlines and ExpressJet, we are now providing maintenance services for approximately 90 per cent of the CRJ Series aircraft operating in the U.S."
About CRJ aircraft
Every 10 seconds a CRJ Series regional jet takes off somewhere in the world. The CRJ Series family of aircraft has trans­ported more than 1.64 billion passengers to become the world's most successful regional jet program -- linking people and communities like no other. The CRJ Series regional jets have revolutionized aviation with their proven efficiency, reliability and profitability.
The CRJ Series regional jets share commonality benefits that provide flexibility to operators and allow them to optimize their fleets to meet specific market demands. No other regional aircraft deliver this capability. Optimized for medium-haul regional routes, these aircraft can provide up to 10 per cent cash operating cost advantage over competing jets.
Each of the CRJ aircraft models offers its own distinct advantages. The CRJ200 regional jet offers outstanding ownership cost, ideal for opening new routes and markets. The CRJ700 regional jet is the lightest aircraft in its category, delivering impressive efficiency, performance and fuel burn savings, while the CRJ900 regional jet offers tremendous flexibility and is ideally suited for growing markets. The CRJ1000 regional jet, which has the highest passenger capacity in the family, delivers the lowest seat-mile cost in the regional jet market and burns up to 13 per cent less fuel than its competitors.
Since its launch, the CRJ Series family of regional jets has stimulated the regional jet market. In North America alone, it accounts for over 20 per cent of all jet departures. Globally, the family operates more than 200,000 flights per month.
The CRJ Series aircraft family includes over 100 owners and operators in approximately 40 countries. The worldwide fleet has logged over 43.5 million flight hours.
Bombardier has booked a total of 1,902 firm orders for CRJ Series aircraft.
About Bombardier
Bombardier is the world's leading manufacturer of both planes and trains. Looking far ahead while delivering today, Bombardier is evolving mobility worldwide by answering the call for more efficient, sustainable and enjoyable transportation everywhere. Our vehicles, services and, most of all, our employees are what make us a global leader in transportation.
Bombardier is headquartered in Montréal, Canada. Our shares are traded on the Toronto Stock Exchange (BBD) and we are listed on the Dow Jones Sustainability North America Index. In the fiscal year ended December 31, 2014, we posted revenues of $20.1 billion.