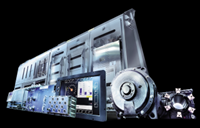 Rail technology leader Bombardier Transportation announced today that its Chinese joint venture Bombardier NUG Propulsion System Co. Ltd. (BNP) has signed two contracts with the Chinese New United Group (NUG) to provide BOMBADIER MITRAC propulsion and control equipment for Nanchang Metro Line 3 and the Line 2 Extension Project. Together, the two contracts are valued at approximately 204 million CNY ($30 million US, 26 million euro), with Bombardier Transportation's direct share in the contracts valued at approximately 23 million SEK ($3 million US, 2 million euro).
Bombardier owns 50% of the shares in BNP which was established in 2003 and is jointly controlled by Bombardier and the Chinese New United Group.
Jianwei Zhang, President of Bombardier China, said, "We are very proud to support the Chinese market by equipping metro cars with our MITRAC propulsion equipment and to continuously power the rapid development of Chinese urban mass transit systems with our proven and reliable technology. As always, we support and serve our customers during the operation with a complete range of high quality services over the full product lifetime. With our global network and strong local presence in China, we can follow and serve our customers whenever needed."
Nanchang Metro aims to accommodate a passenger increase by extending lines and adding additional vehicles. In support of this project, Bombardier's joint venture will provide engineering, manufacturing, testing, commissioning as well as the initial delivery of spare parts for the propulsion systems of 264 metro cars. This includes 192 metro cars on Nanchang Metro Line 3 as well as another 72 cars for the Nanchang Metro Line 2 Extension.
With the latest contracts won in Nanchang, a total of 22 cities in mainland China have chosen Bombardier propulsion technology to power their growing urban mass transit networks, including Beijing, Shanghai, Guangzhou, Shenzhen, Tianjin, Xiamen, Lanzhou, Chengdu, Urumqi, etc.
The equipment for the contract will be supplied from Bombardier Transportation's facilities in Västerås, Sweden and Changzhou, China. Bombardier Transportation offers a broad range of propulsion and control systems that are delivered for many different railway applications. The products in BOMBARDIER MITRAC portfolios offer operators reliable and safe traction with a high focus on cost efficiency during the full product lifecycle. The customer's decision to collaborate with Bombardier again proves the company's strong position in supplying propulsion equipment to external rolling stock manufacturers, making Bombardier one of the top suppliers to the Chinese mass transportation market.
Bombardier Transportation in China is the full solution provider across the entire value chain. From vehicles and propulsion to services and design, Bombardier Transportation in China has six joint ventures, seven wholly foreign-owned enterprises, and more than 6,000 employees. Together, the joint ventures have delivered more than 3,500 high speed railway passenger cars, 580 electric locomotives and over 2,000 metro cars to China's growing urban mass transit markets.
About Bombardier Transportation
Bombardier Transportation is a global leader in rail technology and offers the broadest portfolio in the industry. It covers the full spectrum of rail solutions, ranging from trains to sub-systems and signalling. The company also provides complete transport systems, e-mobility technology and maintenance services. As an innovation driver, Bombardier Transportation continuously breaks new ground in sustainable mobility. It provides integrated solutions that create substantial benefits for operators, passengers and the environment. Headquartered in Berlin, Germany, Bombardier Transportation employs around 37,150 people and its products and services operate in over 60 countries.